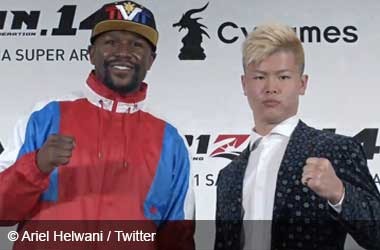 Floyd Mayweather has been in the news this past month because of his on-going fight drama with the RIZIN promotion in Japan. Mayweather first shocked both the boxing and combat sports world after confirming a surprise Dec 31 fight in Japan against rising kick-boxer Tenshin Nasukawa.
Just a few days later, Mayweather came out on Instagram and stated that he was hoodwinked into the fight and apologized to his fans.
Just as we put an end to the Floyd-RIZIN drama, Money Mayweather has stirred up rumours yet again by confirming to TMZ that he will fight in Japan on Dec 31.
Mayweather has said that he will fight Tenshin in a 3 x 3 minute boxing match that will be the highest paid exhibition fight in the world. He confirmed that this will not be a mixed-martial-arts fight and no kick-boxing will be allowed.
TMZSports
It appears that this boxing match will be opened to high ticket buyers who will pay out loads of cash to watch one of the greatest boxers of all time fight a 20 year old. There's no information out as of now as to what the entrance fees will be. However, Mayweather did confirm that he has already made seven figures for his role in promoting the fight.
Is Mayweather Running Out Of Cash?
Some fight pundits continue to claim that Mayweather cannot stay retired and must fight because he is running out of cash. That's seems absurd given the fact that Mayweather has made a ton of money, more than any other boxer alive. He also has investments in a number of business ventures.
However Money Mayweather is known for his crazy spending habits and hence there is speculation that he has blown away all of his cash and must keep fighting to replenish his bank accounts. This is something that Mayweather has denied repeatedly.
In a statement, Mayweather said
People don't understand. Even when people are like, 'Floyd fights because he needs money.' It's more like this: Bill Gates, Warren Buffett, Oprah, they still go out there and do different things and get paid financially great. Like I said before, I'm far from hurting for money. I got a ton of money
There are also rumours floating around that after this exhibition fight, Mayweather is once again going to push for a second fight with Conor McGregor as it is bound to make him a lot of money and take his fight record to 51-0.