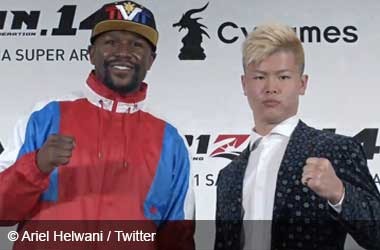 Floyd 'Money' Mayweather had promised his fans that he would come out of retirement and step into the ring before 2018. Mayweather surprised everyone after an official announcement was made that he would fight in Japan on December 31 at the iconic Saitama Super Arena under the RIZIN banner.
Mayweather who has a 50-0 record in boxing is expected to fight 20 year old Tenshin Nasukawa who is a phenomenal kickboxer with a 27-0 record. RIZIN is known for hosting mixed martial arts (MMA) and kickboxing fights and Nasukawa last fight was a kickboxing match in September which he won.
There is no clear indication if this fight between Mayweather and Nasukawa will be a boxing match, a kickboxing match or an MMA match. The fact that Mayweather is fighting in RIZIN comes as a major surprise as there were rumours floating around that he could end up going to the UFC and taking on one of their stars in either a rematch with Conor McGregor or Khabib Nurmagomedov.
ESPN
In a statement, Mayweather said
It wasn't easy to make this happen but we told the people anything is possible, so now we're here and we want make sure that we give the people in Tokyo what they want see — blood, sweat and tears. I'm older now. I think that when it comes to experience, I have more experience on my side. But when it comes to youth, youth is on his side
Strategic Move From Mayweather?
Mayweather has sold the biggest pay-per-view events in the world and has the opportunity to fight anyone of his choice in both the boxing and MMA world and make a lot of money. So it is very strange in some ways as to why he chose RIZIN and a relatively unknown fighter for a bout in Japan.
That being said, Money Mayweather is always looking out for himself and this could be just a warm-up MMA fight before he decides to step into the UFC Octagon with either Khabib or McGregor.
Nurmagomedov's manager has teased in recent weeks that they had something big in the pipeline and Khabib also went on to post an old video of Mayweather stepping into the Octagon.
RIZIN has had a reputation in the fast of fixing fights and it will be interesting to see if Mayweather comes out victorious on December 31 and then prepares for an MMA fight in the UFC in 2019!