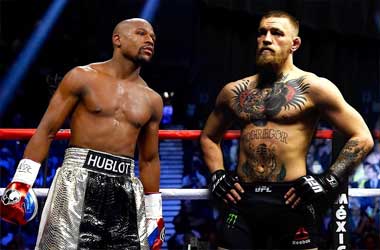 When rumours first circulated of a potential boxing match between the legendary Floyd 'Money' Mayweather and UFC Superstar Conor McGregor, the boxing community laughed it off as McGregor had never had a professional boxing fight in his life.
However, they soon found out that those rumours were true and the hype was real as the fight between Mayweather and McGregor turned out to be one of the biggest pay-per-view events of all time. Mayweather got a TKO over McGregor and retired from boxing with an impeccable 50-0 record.
The Irish superstar doesn't like to lose and had said on numerous occasions that he believed he could have beaten Mayweather.
The two have continued to trade social media jabs and it appears that just like before the hype on social media could turn into a MayMac 2 superfight yet again.
In a statement, Mayweather Sr. said
It's sounding like him and Conor McGregor are going to fight. That's what it sounds like. I don't know for sure, but I'm just saying the way things are sounding to me. I think Conor McGregor wants that win back that he had, which is never coming back to him anyways. It's being talked about and it sounds like a lot of interest is in it right now
ESPN
McGregor Preparing For UFC 229
As of now Conor McGregor is preparing for the biggest UFC fight of his life at UFC 229 which takes place on October 6 when he takes on UFC Lightweight champion Khabib Nurmagomedov.
The two fighters have a lot of animosity between them and the UFC is expecting this card to be the biggest pay-per-view card in its history. Should McGregor go on to win and reclaim his Lightweight championship, there's every chance that he would use the platform to call out Mayweather again to settle the score. There isn't much left for McGregor to do in the UFC and "The Notorious" one knows that MayMac2 would fetch him another whopping payday.
However, if McGregor ends up losing his fight to Khabib, then it makes no sense for him to call out Mayweather as he will be coming off two losses – one in the boxing ring and one in the Octagon.
Mayweather Sr. has promised that if MayMac2 takes place, he will make sure that Conor McGregor gets stretched out in the boxing ring so that he never thinks of returning again.