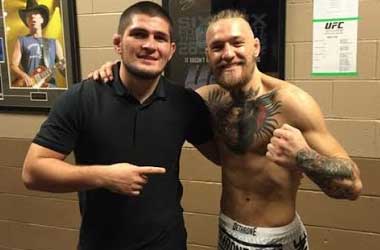 UFC President Dana White surprised the media and a number of fighters at a press conference last week when they played a promo confirming that the much anticipated fight between Conor McGregor vs. Khabib Nurmagomedov will take place on October 6 at the T-Mobile Arena in Las Vegas, Nevada.
Combat sports fans were expecting the UFC to organized a world tour to get McGregor and Nurmagomedov to promote their fight which is being billed as the biggest MMA fight in the history of the sport.
McGregor is a master on the mike and fight fans had a freak show during the McGregor vs. Mayweather world tour in 2017.
In a statement, White said
We don't have time for a world tour. These guys are going to fight the first week of October. Both guys are going to go into camp. We'll do something fun, we'll do some different stuff
While there isn't enough time to organize a world tour, the UFC is not going to waste any opportunity to promote the right. Top UFC executives including Dana White will get together on August 6 to brainstorm and work out a media schedule to promote this fight.
TheMacLife
McGregor has close to 25 million followers on Instagram and Nurmagomedov has close to 5 million followers. The UFC will look to actively engage this large fan following as they would like to create a new record and sell over 2 million pay-per-views.
The Irish superstar has made it a habit to do crazy stuff during his media conferences in the lead-up to his fights which usually generates controversy and creates a lot of hype that helps to sell pay-per-views. This time around, McGregor will not have to create any hype as the intense dislike between the two fighters is very evident.
UFC Will Have To Beef Up Security
What the UFC will have to be careful with is the security surrounding the media tour. Nurmagomedov has told the press that he will get into a fight Conor if the two of them are put in the same room. Both McGregor and Nurmagomedov usually travel with a large entourage and things could get ugly very quickly, if the UFC does not have checks in place.
Dana White confirmed that they were aware that things could get nasty in the lead up to the fight and will do everything required to ensure that things go smooth.