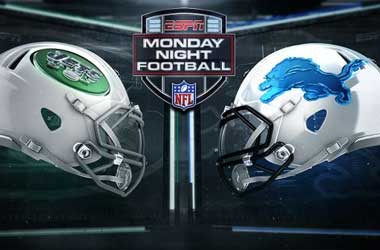 The first Monday Night Football of the NFL season features two teams at different points in their franchise. The rebuilding Jets drafted Quarterback Sam Darnold number 3 overall, and are likely a year or 2 away from competing for a postseason berth. On the other side, the Matt Stafford led Lions are in a bit of a transition, but are still in win now mode.
Former Patriots Defensive Coordinator Matt Patricia has taken over the reigns to the Detroit Lions as their new Head Coach. He brings a tough love mentality and is still attempting to mold this roster in his image. 2nd year Jets HC Todd Bowles somewhat overachieved in his first year, with many pundits predicting the Jets to be contending for the number 1 overall pick in the draft, instead going 5-11 and trading up to draft their Quarterback.
The Vegas point spread has the Lions set as 7.5 point favourites as of Sunday night, with the Over/Under set at 44.5.
The Rich Eisen Show
New York Jets
All eyes will be on rookie Quarterback Sam Darnold as he makes his anticipated NFL debut, looking to lead the Jets back into relevancy, and to a win Monday night. Darnold showed all the tools you want in an NFL QB at USC the last 2 years but had a bit of a turnover issue, which may be a problem early in his NFL career.
Darnold occasionally looks to force throws over the middle, and sometimes holds on to the ball too long in the pocket, subjecting himself to easy strip sacks. His skill position teammates and Offensive Line are a who's who of average homegrown players and middling journeymen, which does not bode well for a good start to his career. On the defensive side of the ball, the Jets have a very talented secondary headlined by 2nd year Safeties Jamal Adams and Marcus Maye. They also brought in a capable press Corner in Trumaine Johnson and still feature Mo Claiborne on the outside and Buster Skrine on the inside.
In the front seven, the Jets are somewhat lacking in the pass rush department, with Defensive End Leonard Williams being the only real threat. The Jets did bring in stud Inside Linebacker Avery Williamson from Tennessee in free agency, who is a bonafide run stuffer.
Injuries and Inactive Watch
FS Marcus Maye (foot)- has not practised this week, not expected to play LB Avery Williamson (hamstring)- full participant Saturday, questionable to play. WR Jermaine Kearse (abdomen)- limited participant Friday and Saturday, doubtful
Detroit Lions
Since drafting Matt Stafford 1st overall in 2009, the Lions have done little to surround Stafford with the talent he needs to make a real postseason run. As far as arm talent goes, there are few Quarterbacks I would take over Stafford.
The Detroit Lions feature a high powered passing attack, and ranked in the top 10 in offense last season, but their rushing offense has been dreadful. Detroit has not had a 100 yard rusher in a game since Reggie Bush was in Blue and Silver. The Lions attempted to rectify this, drafting Kerryon Johnson in the second round and signing the hammer himself, LeGarrette Blount in free agency.
The Lions defense has somewhat hamstrung them recently, featuring little in the way of playmakers. The secondary has some nice players, with Pro Bowler Darius Slay manning one Cornerback spot, and a talented safety tandem of Quandre Diggs and Glover Quin.
The defensive line is still the main concern. Ziggy Ansah is very hit or miss at Edge Rusher, and can go weeks without tallying a QB hit or sack, but he is still the most talented option they offer as a push rusher. The rest of the defensive line are traditional run stuffers, and cannot get after the quarterback with any consistency.
Injuries and Inactive Watch
DT Ricky Jean-Francois (illness)- full participant Saturday, expected to play OT Andrew Donnal (knee)- DNP Saturday, will not play.
Matchups to Watch
New York's WRs vs. Detroits Secondary
New York OTs vs. Ziggy Ansah
Detroits WRs vs. New Yorks Secondary
Detroits RBs vs. New Yorks Linebackers
Predictions
This game could go a hundred different ways. Matt Stafford and the Lions are going to sling it around the yard, and the Jets secondary, even if Maye doesn't play, will give him a tough test. Either way, the Lions will move the ball and put up points. Whether or not the Jets can is the question. The Jets mostly kept Darnold under wraps in the preseason, limiting him to short throws and timing routes. However, there may not be a better opportunity for Darnold to get his first start, as the Lions defense is no '85 Bears.
The matchup to watch for me is going to be Ziggy Ansah against the Jets Tackles. If wants to live up to his $17 million franchise tag and earn a large contract extension, it has to start Monday at home against a rookie QB and a questionable Offensive Line.
If the Jets unleash Darnold a bit and let him use his mobility to move the pocket and push the ball downfield, this game could get interesting. You know the Lions are going to score, but if the Jets have been reining Darnold in just to build his confidence, watch out.
We don't have a lot of confidence in either defense, and as we said earlier, this game could end up a blowout, or a shootout. I'm gonna roll with the over here, hoping Darnold gets his NFL career off to a hot start, matching Stafford throw for throw, and possibly making this a close game. Take the over in this one!
Final Pick: NYJ@DET (O 44) [Buy Half Point]