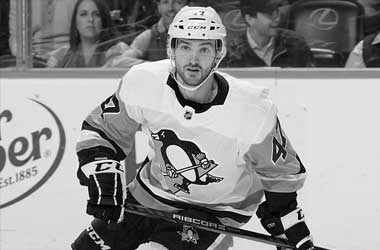 Summary:
American ice hockey player Adam Johnson was killed during a game in the UK
Johnson's Johnson throat was slit after Matt Petgrave's skate boot hit him under the neck
Fans on social media claim it was deliberate and want the police to charge Petgrave with manslaughter
Ice hockey fans around the world were in shock after tragic news broke over the weekend that resulted in the death of Adam Johnson who once played in the NHL for the Pittsburgh Penguins.
The 29 year old American was playing for the Nottingham Panthers in the UK during a game against the Sheffield Steelers when tragedy struck.
Social Media Call For Manslaughter Charge
Adam Johnson ended up colliding with opposing player Matt Petgrave and he immediately went down. Replays showed that when Petgrave collided with Johnson, Petgrave's leg went up in the air towards Johnson's exposed neck and the skate boot ended up slitting Johnson's neck which ultimately led to him passing away.
It was a tragic and shocking incident for both teams and fans in attendance. The clip of the collision did the rounds on social media and fans were not happy to see what happened. A lot of fans have share their thoughts on X stating that they don't think this was an accident as it looked like Petgrave was deliberately trying to hurt Johnson.
Many fans on X have called for the authorities to book Johnson and try him for manslaughter as the intention behind the collision was deliberate. The term 'manslaughter' started trending on X for some time, prompting UK police to release a statement and ask the public to not engage in speculation.
Matt Petgrave needs to be charged with manslaughter for killing Adam Johnson on the ice. What a dirty play. pic.twitter.com/Zvrj7Haz24

— Earl Joseph (@BigDaddyGirth) October 30, 2023
As a former player I agree. I'm thinking a "knee to knee" gone horribly wrong. Should absolutely be charged with manslaughter.

— Slay 🅁🅅🄽🪀💹 (@Slay_Books) October 30, 2023
UK Police Ask Public Not To Engage In Speculation
South Yorkshire Police were called into the ice hockey rink after the incident and have now released a statement confirming that they are investigating the incident that caused the tragic death of the former NHL player.
In a statement, South Yorkshire Police said
Our officers remain at the scene carrying out inquiries and our investigation into the circumstances surrounding the incident remain ongoing. We would encourage the public to avoid speculation regarding the incident while we continue our inquiries.
On Oct 30, the English Ice Hockey Association have confirmed that from Jan 1, 2024 it will be mandatory for all players to wear neck guards!