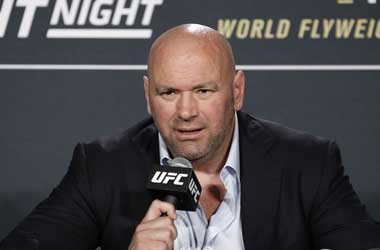 UFC President Dana White has given Conor McGregor preferential treatment in the organization due to the fact that McGregor has done so much for the company in the last few years.
However, the UFC has moved on from McGregor who hasn't fought since October 2018 when he lost to UFC lightweight champion Khabib Nurmagomedov.
MMA fans are eager to know if and when McGregor will make a return to the Octagon. TMZ recently caught up with Dana White and posed the question.
The UFC President confirmed that he expects McGregor to fight by the end of the year or early 2020.
TMZSports
When asked if McGregor will fight the winner of Khabib Nurmagomedov vs. Dustin Poirier and get a title shot on his return, Dana White shot down that possibility and said McGregor will not fight for the title when he returns. Nurmagomedov will put his belt on the line against interim champ Dustin Poirier will take place at UFC241 in Abu Dhabi on September 7.
The number 1 contender for the UFC lightweight title is Tony Ferguson who has won his last 12 fights. White has received criticism for not wanting to give Ferguson a title shot but it appears with him confirming that McGregor will not get a crack at the belt when he returns; Ferguson will be next in line.
White is not clear who McGregor will fight when he returns and in his usual fashion stated that he wanted UFC241 to play out first before he could play matchmaker and pick an opponent for the Notorious one.
Jorge Masvidal Will Not Fight McGregor
Jorge Masvidal has been in the news ever since his impressive 5 second KO of Ben Askren. Street Jesus as some people like to call him took to social media to call out Conor McGregor and promise to break his face.
Dana White is not excited in booking a Masvidal vs. McGregor showdown as he believes Conor McGregor is too small for the welterweight division and should remain at lightweight. McGregor has fought at welterweight against Nick Diaz on two separate occasions, losing one and winning the other.
White wants McGregor to fight at lightweight, win a fight and then look to challenge the champion – whoever that maybe at the time. Some of the potential opponents that McGregor could be matched up with include Cowboy Cerrone, Justin Gaethje, Al Iaquinta and the loser of the Nurmagomedov vs. Poirier fight.