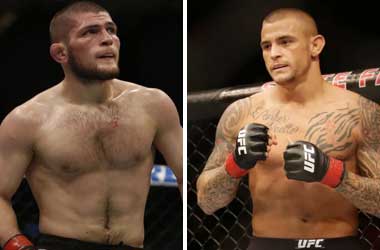 The UFC has made it a habit to take its Fight Night events and hold it in different cities around the world.
This strategy helps the UFC build its brand image and also give UFC fans a chance of attending a live event. When it comes to its pay-per-view events, the UFC prefers to host most of its events in the United States and sometimes in Brazil.
The UFC has confirmed that it will be making a stop in Abu Dhabi in September. The company last hosted a Fight Night in Abu Dhabi back in 2014 when Antonio Rodrigo Nogueira and Roy Nelson headlined the event. This time around there are rumours that the UFC will host its first ever pay-per-view event in Abu Dhabi.
While no official confirmation about this has been released, there are rumours that the UFC will run UFC242 in Abu Dhabi which will be headlined by a UFC lightweight title fight between current champion Khabib Nurmagomedov vs. interim champion Dustin Poirier.
ESPN MMA
Nurmagomedov has made it clear that he is not interested in fighting in Las Vegas again after the Nevada State Athletic Commission fined him over $2 million dollars and suspended him for 6 months due to his antics outside the cage after he won his fight against Conor McGregor.
Getting Nurmagomedov to fight in Abu Dhabi makes perfect sense for the UFC as the Dagestan fighter is a staunch Muslim and has a massive fan following in the middle-east. He will be the overwhelming fan favourite and Abu Dhabi will roll out the red carpet to host such a global event.
Will Tony Ferguson Be On Standby?
While Nurmagomedov vs. Poirier is definitely an exciting fight for the fans, there is no question that the real fight MMA fans want to see is Nurmagomedov vs. Tony Ferguson. The UFC has tried to make this fight happen on four different occasions and all four times they have had to cancel as Khabib or Ferguson have had to pull out.
Ferguson has had to deal with personal issues in recent months which have prevented him from fighting. The UFC would ideally like Tony Ferguson to fight on the Abu Dhabi card and have him on standby in case something happens to either Khabib or Poirier. The big question is whether Ferguson will agree to fight in Abu Dhabi and who will be his opponent!