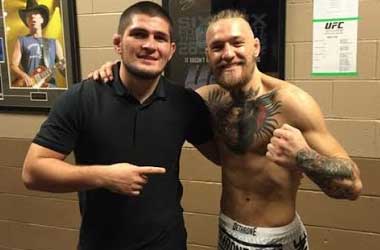 The Nevada State Athletic Commission (NSAC) have temporarily suspend UFC stars Conor McGregor and Khabib Nurmagomedov for a 10 day period for their actions relating to the fracas created at UFC229 at the T-Mobile Arena in Las Vegas, Nevada on October 6.
The NSAC will then meet on October 24 to discuss further on the punishment that will be handed out to both fighters. An investigation into the brawl that occurred after the fight will take place as the Commission goes through video footage and then comes up with a vote on what kind of sanctions will be issued.
Members of the NSAC along with the commissioner will take a vote on October 24 to finalize the punishment.
The NSAC has the right to issue a financial penalty, revoke the fighters MMA license to fight in the state of Nevada and also suspend them indefinitely. The NSAC has released Conor McGregor's purse but has held onto Nurmagomedov's purse which is supposed to be around $2 million.
Since the NSAC is holding on to Nurmagomedov's funds, they have called for a quick meeting and will make their final decisions on October 24. It is very likely that McGregor will get off a lot easier than Nurmagomedov who jumped out of the Octagon and started brawling with McGregor's corner.
joeingram1
Nurmagomedov Issues Ultimatum To The UFC
Nurmagomedov could be in trouble with the NSAC but his popularity has become a lot bigger since the public brawl and his Instagram following went up by 5 million followers. There are many fans who feel that he did right in defending the honour of his country, father and religion.
The UFC lightweight champion hasn't been very happy with how the UFC has reacted to the public brawl as UFC President Dana White has suspended Khabib's corner for attacking Conor McGregor. At least two members of Khabib's corner are UFC fighters and they are expected to be cut from the organization.
Nurmagomedov lashed out at the UFC for being impartial to Conor McGregor and taking no disciplinary action against him or his team when they attacked a bus at the Barclays center and caused damage. Khabib has told the UFC if they decide to cut his team from the organization then they should be prepared to also cut him as he stands together with his Russian brothers.