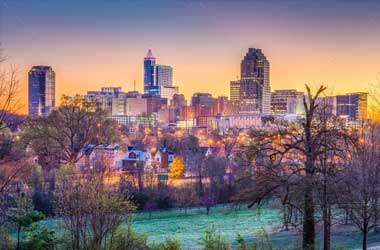 Summary
Over 55 sponsors have signed on in support.
The expansion would legalize new gaming options.
Full casinos and video lottery terminals would be allowed.
Gambling may eventually expand in North Carolina thanks to recent efforts by Senate members. The Senate is currently considering an additional expansion of gambling after the approval of sports betting earlier this year.
Some lawmakers have introduced a bill allowing for more gaming options, such as video lottery terminals and fully functioning casinos.
Getting Busy Gaining Support
Supporters of House bill 347 concerning the subject have been working overtime to gain support on the topic. Over 55 sponsors are now in support of the 120-member chamber. With almost half in approval, the measure has a larger likelihood of moving forward.
Right now, North Carolina allows casino gambling but only at tribal venues. There is also an Education Lottery on offer. With the expansion, the state would license and regulate video lottery terminals nationwide and feature full casinos outside of tribal lands.
The state only offers casino gambling on the west side, with two casinos operated by the Eastern Band of Cherokee Indians and one by the Catawba Indian Tribe.
The change would bring new entertainment, of course, but also many different jobs, which would help to spur more economic development and support for the community.
Understanding the Impact of New Casinos
As part of the potential expansion plan, an analysis of gambling and the impact of new casinos in particular areas of the state was conducted. Under consideration were Rockingham, Nash, and Anson counties. If casinos were offered in these areas of the state, it is expected to generate $1.6 billion in new revenues.
The study is titled Gaming Market Analysis: Potential New Gaming Options in North Carolina. The Spectrum Gaming Group and Greater Carolina commissioned the review. The casinos are expected to bring in traffic from other states, including Virginia and South Carolina. It's possible that players from Tennessee would also make the trip to gamble since the state offers minimal options.
One major component of the measure is the sports betting and video lottery terminal option. The expansion would place machines throughout the state. Geolocation technology has shown that residents of North Carolina are traveling to other states like Tennessee and Virginia to place sports bets.
With a plan in place, the state could see residents remain within its borders to spend money on gaming. While the effort is being made, there is no exact timeline for the legislation to be voted on and potentially passed. It may still be some time before we see a full expansion of gambling in North Carolina.