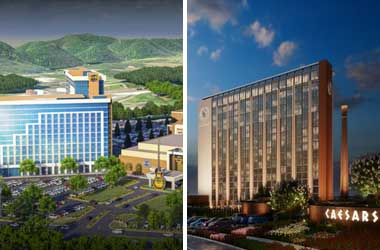 Caesars plans to open a temporary casino in Danville by next year.
The permanent Caesars Virginia casino will cost $650m.
Hard Rock Bristol Casino should complete a groundbreaking ceremony this month for the permanent property.
An expansion of casino gaming is slowly coming to fruition in Virginia. Big time players in the gaming industry are hard at work bringing temporary and permanent facilities to life in the state.
Caesars Entertainment has plans for a large resort with a temporary setup expected for Danville by mid-2023. Hard Rock International is also working on its permanent casino property, with a ground-breaking ceremony expected for later this month.
Caesars Virginia Resort Details
Caesars Entertainment is looking to open a temporary property in Danville, with plans to go live with gaming by the middle of 2023. Executives for Caesars just recently revealed the upcoming plans during a third quarter earnings call.
The opening of the temporary casino will come over a year before the permanent facility is open. Once completed, the permanent casino will cost $650 million. Currently, officials are working with the Virginia Lottery to place the temporary space at a site in Schoolfield. The site must be used due to details listed in the referendum question that approved gaming in Danville back in 2020.
A groundbreaking for the permanent structure took place in August and should be ready for operation by 2024.
The casino is expected to provide as much as $38 million in tax revenues annually. The property will include a 500-room hotel plus a casino gaming floor with more than 1,300 slots and 85 live table games. Electronic table games will also be included.
Hard Rock International Also Working on a Casino Project
Earlier this year, Hard Rock opened the temporary Bristol Casino facility in Virginia and has been well-received by the public. A ground-breaking is expected for the permanent facility later this month with executives having approved the details of the project.
Demos may begin as early as next week and once completed, the project will be ready to go live within the first half of 2024. The property will not offer a hotel, so it is expected that the Hard Rock Bristol will be more a locals spot. Right now, the casino sees local traffic and players from around 100 miles away.
Once a hotel is added in the future, the casino can become more of a destination location. The casino is already a big hit without a hotel, as the temporary space has over 50,000 members within the loyalty program. This amount was hit within a four-month time frame and not expected by the company.
Through September, the casino was able to generate over $40 million in gross revenues. A total of $7.2 million was paid in state taxes and $2.4 million to the local municipalities near the property.