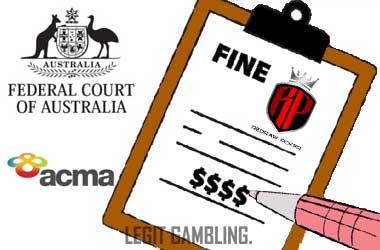 Summary:
Diverse Link Pty Ltd hit with AU$5 million fine in Australia
The company offered unlicensed online gambling services to Australians via Redraw Poker
The $5 million penalty is unlikely to be recovered as the operator did not participate in the proceedings
An online poker operator has been slapped with a $5 million fine in Australia for offering its service to Australian customers. The Australian Communications and Media Authority (ACMA) initiated civil proceedings against Diverse Link Pty Ltd for violating the country's online gambling laws.
The Federal Court found the company guilty of providing illegal online gambling services to Australians, resulting in the hefty AU$5 million penalty.
Company Offered Illegal Online Poker to Australians
Diverse Link owns and operates an online poker platform named "Redraw Poker" which was flagged by ACMA for allowing Australians to play at the site from March 15, 2021 to April 13, 2022. Such an act is in breach of Australia's Interactive Gambling Act which prohibits companies from providing interactive gambling services to domestic players.
In his ruling, Federal Court Justice David Thomas stated that Redraw Poker catered to Australian customers for an extended time using sophisticated systems, allowing them to play real money online poker via computers, mobile phones, and other devices.
Australians were able to sign up to the platform and buy and redeem chips in order to play. The chips cost $1 each and the site accepted payments via bank transfers or crypto/bitcoin. Judge Thomas said such service is unregulated in Australia and the platform had no adequate player safeguards and controls in place to prevent problem gambling.
ACMA discovered the illegal operations following complaints from two affected players who reportedly lost thousands of dollars playing at the online poker platform. One of the players said the site had no responsible gambling feature, with players able to create multiple accounts using fake identities. The player requested to be banned from the site multiple times but to no avail.
Penalty Unlikely to be Paid
Deposits worth around $4.2 million had been linked to the illegal operation, excluding bitcoin payments. Diverse Link refused to participate in the proceedings, which means it is highly unlikely that it would pay the $5 million fine. Judge Thomas said the financial penalty will act as a general deterrent for other operators who may be involved in similar practices.
Diverse Link will be deregistered by ACMA and will no longer be able to offer its services to Australians.