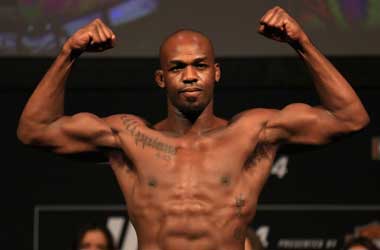 When there is just about no sporting action going on across the world, UFC lightheavyweight champ Jon Jones managed to steal the headlines last week when he was arrested in New Mexico for aggravated DUI.
Jones has been arrested before on a DUI charge and has had his fair share of trouble with the police over the years that has cost him millions of dollars, hurt his reputation and caused him to be stripped of his UFC lightheavyweight title.
Widely regarded as the greatest mixed-martial-arts fighter in history, Jones appeared to have learnt his lessons and turned a corner in 2019 as he stayed out of trouble and fought three times. However, the on-going lockdown and no potential fight to train has caused Jones to go off the rail yet again!
Jon Jones is expected to have his day in court on April 8 and given his previous trouble with the law in New Mexico, it is highly likely that the UFC champ could be given jail time, especially if the judge decides that Jones has had enough opportunities to mend his ways and now needs to be made an example to the rest of the sporting world.
TheMacLife
There are different scenarios that could play out. The most obvious one is that Jon Jones legal team and the prosecution reach a plea deal and the case does not go to a trial. If would depend on what kind of plea deal Jones is willing to take as it could very well likely include a certain amount of jail time.
If Jones does not agree to the plea deal, then it would go to trial and that could take a long time given that they will have to find a jury that is not biased. This will be hard to do given that Jones is a household name across the world and one of the most popular faces in New Mexico.
Will Jones Be Stripped Of His Belt Again?
If Jones gets jail time, it will definitely result in him being stripped of his UFC lightheavy weight belt once again. UFC President Dana White has not made any decision on Jon Jones for now as he is currently focusing on setting up the Khabib Nurmagomedov vs. Tony Ferguson card in April.
Jon Jones will have to keep his fingers crossed and wait to see if the judge and his MMA fans will once again be willing to deal leniently with him!