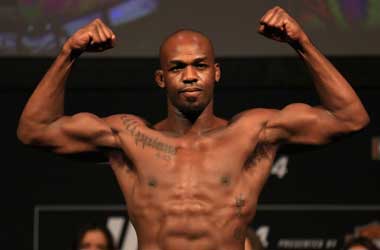 Just when you thought Jon 'Bones' Jones had turned a new leaf and sorted out his personal life, he proves you wrong.
Widely considered as the greatest mixed martial arts (MMA) fighter of all time, Jones has been very active in 2019 having fought twice already.
Jones successfully defended his UFC lightheavyweight championship earlier this month when he defeated Brazilian contender Thiago Santos in a tough five round fight that went the distance.
Jones told media that he planned to take a break and return to the Octagon in December.
A new story broke on TMZ stating that Jon Jones has been slapped with petty misdemeanour charge filed by a waitress working at a strip club in New Mexico. The waitress alleges that Jon Jones and his brother (no mention of which brother) showed up at the strip club and Jones caught her from behind in a rear naked choke hold. She stated that there was nothing sexual with this hold but once he released her, he slapped her vagina.
NESN
The waitress says that she told Jon Jones twice if he was going to do this, he would have to pay her $100. Jones ignored those remarks and paid her no money before leaving the club. She was upset over the fact that Jones did what he wanted and there was no one to question him or get him to pay for what he did, so she went to the authorities and filed a complaint.
Jon Jones was supposed to show up for a bond arraignment but failed to do so. He was then issued a bench warrant on June 12 and had to pay a cash bond of $300 this weekend. There is a small possibility that Jones could face jail time but as of now no court date has been fixed.
Jones Denies Allegations
Social media was quick to jump on the story and condemn Jon Jones for his outrageous behaviour yet again. The hit and run incident involving a pregnant woman in 2015 is still fresh in the mind of MMA fans.
Jon Jones has denied the allegations brought against him and has asked his fans not to believe everything they read on the internet. The UFC lightweight champion also confirmed that he was not in trouble and looked forward to fighting in December.
Jones's defense team released a statement officially denying the allegations and stating that there were multiple witnesses who would refute the lies being told against Jon Jones.