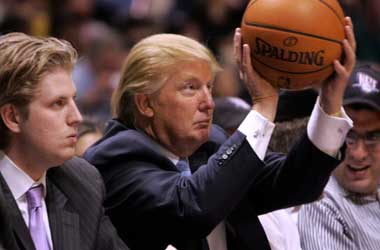 U.S. President Donald Trump held a conference call with a number of commissioners of major sports leagues on April 4, where Trump reportedly indicated his wish for their leagues to resume by August or September.
The National Basketball Association (NBA) was the first major sports league to suspend their ongoing season on March 11 due to concerns regarding the COVID-19 pandemic, which have necessitated greater social distancing measures to try quelling the spread of the coronavirus. Other sports leagues quickly followed suit.
Trump brief the press later on the same day and stated that the commissioners he spoke to expressed wanting to get back to normal operations as soon as possible.
It has been reported, however, that Adam Silver, the commissioner for the NBA, reminded that health officials' approval will be necessary before any resumption of sports events.
In addition to Silver, the White House confirmed the other members of the conference call with Trump: Rob Manfred (MLB), Roger Goodell (NFL), Cathy Engelbert (WNBA), Gary Bettman (NHL), Michael Whan (LPGA Tour), Jay Monahan (PGA Tour), Vince McMahon (WWE), Dana White (UFC), Drew Fleming (Breeders Cup), Don Garber (MLS), and Roger Penske (IndyCar).
ESPN FIRST TAKE
Uncertainty Regarding Silver and NBA's Decisions
Since Adam Silver was the first commissioner to suspend the NBA season ahead of any official proclamation or directive from the government, he will likely drive the conversation of when sports leagues can come back.
Silver is reportedly keeping faith that the NBA will be able to play out the rest of its season. Possible workarounds include a shortened playoffs, with all games to be held in Las Vegas to curtail logistical issues for traveling that would be exceedingly difficult in light of restrictions designed to slow the spread of COVID-19. Currently, there is no definite picture how the NBA would be able to salvage its season, but with billions of dollars at stake, the NBA will likely keep an open mind on how to proceed.
Sources also disclosed that the NBA is in the midst of preparations in case Silver decides to forgo the current season, if the COVID-19 pandemic does not slow down.
As of right now, only rumors are available as to the NBA's plans. What is clear is that the NBA is preparing for all possibilities. With billions all over the globe waiting on their games, the NBA's decision will likely be difficult either way.