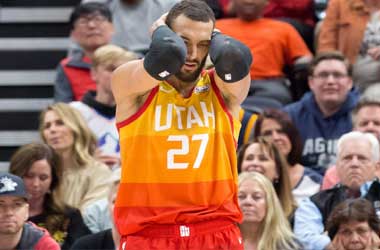 The National Basketball Association (NBA) has announced it will be suspending its ongoing 2019-2020 season indefinitely.
The announcement was made after the Utah Jazz's Rudy Gobert tested positive for the COVID-19 virus that has spread throughout the world in recent weeks and has now been termed as a pandemic by the World Health Organization (WHO).
The NBA who wanted to continue playing with empty stadium instead stated that during the suspension, the league will continue holding discussions regarding its response to the ongoing COVID-19 pandemic.
The NBA G League has also suspended their season.
Rudy Gobert was identified by media sources as the affected player. Utah Jazz was supposed to take on Oklahoma City Thunder but the game was subsequently postponed right before tipoff.
ESPN
Gobert did not enter the Chesapeake Energy Arena but was in Oklahoma City. Players were already warming up when they were directed to return to the locker rooms. Just about 30 minutes later, fans were told to head home.
Thunder players were able to leave the arena but Jazz players were forced to undergo health checks with Oklahoma and Salt Lake City public health authorities in order to get clearance to head back to Utah.
Teams that have played the Utah Jazz in the last 10 days will be self-quarantined. The teams are the New York Knicks, Detroit Pistons, Cleveland Cavaliers, Toronto Raptors and Boston Celtics. The Pistons' Langston Galloway stated that he likely had contact with Gobert, but said that he took the requisite precautions during the games. He also limited his exposure to fans.
NBA Teams Facing Uncertainty on Season's Future
Dallas Mavericks owner Mark Cuban expressed his shock at the NBA's decision, stating that it felt more like a movie than a situation rooted in reality. Cuban was quick to add that he is not an expert on handling such situations and said that he trusts NBA commissioner Adam Silver to make the correct decision.
Cuban stated that NBA teams have been informed that they could continue to practice, although players are barred from inviting visitors from out of town inside the facilities. The Mavericks' win over the Denver Nuggets was the last NBA game to conclude before the suspension was enacted.
There are only 259 more games before the end of the NBA season, around 21 percent of the schedule. No word has been released on a prospective date for its restatement!