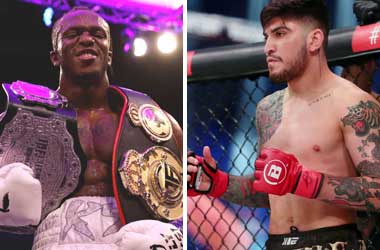 Summary
Dillon Danis was set to box KSI on Jan 14 at Wembley Stadium
Danis has now withdrawn with reports suggesting he is underprepared
Danis continues to get trolled on social media for being a no-show
Dillon Danis made a name for himself when he was part of Conor McGregor's training camp and main BJJ training partner. Danis had a good reputation in the BJJ world but ever since moving over to MMA, his reputation has tanked big time.
Danis last fought in Bellator in 2019 when he secured a first round submission to get to 2-0 in his MMA career. He hasn't fought in MMA since then as he has battled injuries.
Danis was set to box YouTuber KSI on Jan 14 at Wembley Stadium in the UK, whoich would have been have UK bettors relishing a KSI win.
There were red flags in Dec 2022 when Danis did not show up for the press conference to promote the KSI fight. With less than two weeks to the fight, Danis has confirmed that he will not show up at Wembley to fight KSI.
KSI's manager Mams Taylor has confirmed that Danis has withdrawn from the fight because he was underprepared. Taylor said that Danis was struggling with his weight and did not have a coach or team to prepare him for the fight. KSI's management claims that Danis initially had problems with the contract as he wanted a rehydration clause included.
When they said no to it, Danis stopped communicating with them and as a result, they agreed to the rehydration clause. Even with the clause in, Danis decided to drop out. Taylor says that they are very disappointed with the way Danis chose to handle himself and did not reciprocate the respect that was given to him.
Danis Continues To Get Trolled On Social Media
Danis who from the USA no longer trains with Conor McGregor and has stayed relevant in the combat sports world for the last few years by becoming an internet troll. The roles have reversed significantly in recent months as Danis has lost whatever reputation he had with this social media antics and his excuses not to fight!
Former Bellator champ Ben Askren said Danis pulling out of the fight was the most predictable news.
In the most predictable news ever!!!! https://t.co/uCziSwXssI

— Funky (@Benaskren) January 4, 2023
Whilst current Bellator star Michael Venom Page said he expected Danis to bitch out and said he should now be called "Dildo Danis"!
🤣😂🤣🤣😂😂 I New @dillondanis would bitch out 🤣😂😂😂 from now this guy should be known as Dildo Danis pic.twitter.com/2CqucDlXKK

— Michael Venom Page (@Michaelpage247) January 4, 2023