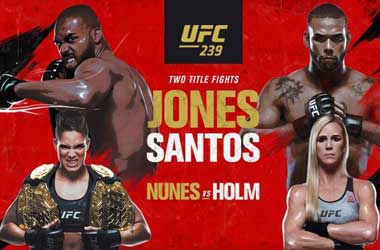 Jon Jones who is widely considered the G.O.A.T (Greatest of All Time) in combat sports will headline UFC239 which is scheduled to take place on July 6 at the T-Mobile Arena in Las Vegas, Nevada. Bones Jones will defend his UFC lightheavyweight championship against Brazilian Thiago Santos.
The Ultimate Fighting Championship (UFC) celebrates international fight week in July each year and looks to put on the most stacked card it can for fans to see the best fighters in MMA compete against each other.
International Fight week runs from July 3 to 6 and will have a number of exciting events taking place all throughout the week.
Some of these events include a 2 day interactive fan experience hosted by the UFC, a 2019 special UFC Hall of Fame Induction Ceremony and then UFC239.
UFC – Ultimate Fighting Championship
Two Championship Belts On The Line
UFC has put together a stacked card which includes two title defenses. Jon Jones has never been beaten in the Octagon and is a massive favourite with the bookies. Thiago Santos is one of the hardest punchers in the game and his main key to victory will be to land one of those hammer punches on Jones and see if he can become the first man in history to defeat Jon Jones.
Amanda 'The Lioness' Nunes who is now considered the greatest female fighter of all time will defend her UFC bantamweight championship against former champion Holly Holm in the Co-Main Event. Nunes is a heavy favourite but knows that Holly is a dangerous opponent as they are the only two women in history who have defeated former UFC champion Ronda Rousey.
Apart from the two title defenses, there are also some other great fights on the main card. Former UFC Middleweight champion Luke Rockhold has moved up to Lightheavyweight and will take on Jan Blachowicz. If Rockhold wins in convincing fashion, he will most likely push for a title shot against Jon Jones (should Jones defend his best successfully.)
Jorge Masvidal will take on Ben Askren in a fight that the fans want to see. Ben Askren does not have much of a stand-up game and will rely heavily on his wrestling. Masvidal admits that he intensely dislikes Askren and wants to hurt him really bad. The winner of this fight will most likely call for a title shot against UFC welterweight champion Kamaru Usman!