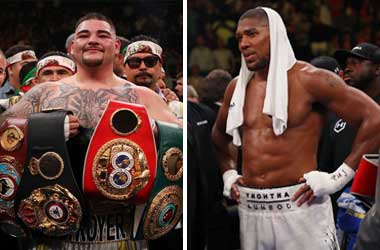 Former heavyweight boxing champ Anthony Joshua wants his WBO, WBA and IBF belts back immediately but current champ Andy Ruiz Jr. is slamming down a few conditions for the hotly anticipated rematch.
The 29 year old Joshua had to surrender his WBO, WBA and IBF world titles in an embarrassing shock defeat to Ruiz in early June.
Joshua who was undefeated prior to this loss, hasn't shied away from the media and recently called for the rematch to take place in England but the Mexican champ isn't too keen on going into hostile territory.
The June melee with Ruiz marked Joshua's first fight in the United States, held at Madison Square Garden in New York. The devastating Round 7 knockout loss blemished the heavyweight's previously spotless 22-0 slate. Joshua's promoter Eddie Hearn is pushing hard for the rematch to take place at the Principality Stadium in Cardiff, Wales.
Given the fact that Joshua's debut in America did not go his way, the Brit is also keen in having the rematch on home soil. In an interview, Joshua mused how fighting in front thousands of fans screaming and rooting for him would give him that extra motivation to KO Ruiz and reclaim his belts.
Sky Sports Boxing
Joshua and Hearn are unlikely to get their wish as Ruiz is the champ and he is keen on calling the shots. Given the fact that Ruiz has been reluctant to accept a rematch in the UK, Joshua has resorted to a little thrash talk to push Ruiz to sign the rematch contract quickly.
In an interview with Sky Sports (shown above), Joshua scoffed that, if it came down to it, he'd be willing to fight Ruiz in Tijuana with the Mexican boxer's uncle as the referee. It was Joshua's way of saying that he felt confident of beating Ruiz any time and any place.
This prompted Ruiz to respond to Joshua's bold statement and call for the rematch to be held in Mexico. Ruiz is the first ever Mexican heavyweight champion in history and a rematch in Mexico would guarantee a sell-out arena and do wonders for boxing in Mexico.
Rematch At A Neutral Venue
It is highly unlikely that Eddie Hearn will agree for the rematch to take place in Mexico. Hearn is also not open to having Joshua rematch in the United States. Which means in all likelihood the two parties will have to agree on a neutral venue in the coming weeks for the fight to take place.