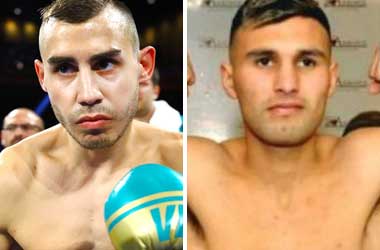 Combat sports is one of the most exciting sports on the planet and also one of the most dangerous sports due to the possibility of concussion and damage that fighters can take in the ring. Boxing has been around forever and over the years the sport has lost a few fighters who have succumbed to their injuries.
This week has been a terrible week for boxing as the sport has lost two young fighters who passed away due to injuries suffered in the ring. Boxing fans are in shock as never before have two fighters under 30 passed away in the same week.
The first boxer that passed away earlier this week was the 28 year old Russian boxer Maxim Dadashev who fought and lost to Subriel Matias on 19 July.
A video floating around social media shows Dadashev's trainer pleading with the fighter between rounds to get his permission to stop the fight.
ESPN
Dadashev being the warrior that he was never agreed to quit but in the end the fight was stopped but by then the damage was done. Dadashev walked out of the ring and went to the hospital for treatment. He was put in an induced coma since he had suffered brain injuries but the doctors were unable to save him.
As the boxing community grieved a life lost so young, they received another shocker on Thursday night when news broke that Argentinean boxer Hugo Alfredo "Dinamita" Santillan had passed away after suffering serious injuries in his fight against Eduardo Javier Abreu.
The 23 year old Santillan took a lot of damage in his fight and a video on social media shows that he could not stand on his own and had to be held up as they announced the decision which ended up as a draw. He was taken to the hospital immediately and had to undergo surgery to remove a clot from his brain. However, Santillan passed away from cardiac arrest.
In Santillan's case, there are those who watched the fight that claim incompetence from the referee who should have stopped the fight earlier. The same can be said of Santillan's corner.
Should The Rules Be Changed
There are many who are calling for the rules to be changed in boxing and for the standing 10 count to be done away with. What the referees and corner men must learn from these two deaths is that they need to be a little more cautious with the fighters and be prepared to stop the fight in an effort to keep fighters from taking so much damage!