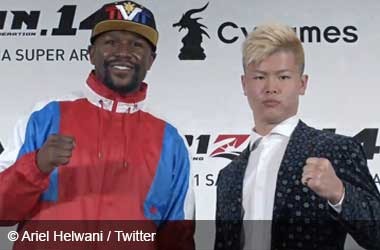 They don't call him Floyd 'Money' Mayweather for nothing.
The greatest boxer of our generation with an impeccable 50-0 record surprised everyone when he agreed to fly to Japan and fight for RIZIN in a New Year's eve match against rising kickboxing star Tenshin Nasukawa.
The 20 year old had agreed to a 3 round – 3 minute exhibition match with Floyd Mayweather where he could only box and not use kicks – which is his strength.
He had a 4-0 MMA record and a 28-0 kickboxing record but had never fought a professional boxer before.
His inexperience in the ring was very evident and Mayweather outclassed him and took him apart. Within the first 2 minutes of the fight, Mayweather knocked Nasukawa down thrice and his corner decided to end the fight by throwing in the towel. The young man was visibly disappointed and emotional as he was very certain that he would change history and finish Mayweather with one punch.
In a statement, Mayweather said
It was all about entertainment. We had fun. I'm still retired. I don't look forward to coming back to boxing. I did it just to entertain fans in Japan. I'm still retired, I'm still 50-0, and Nasukawa is still undefeated and a hell of a fighter.
Was The Fight Fixed?
There were many fans and a few fight analysts who believe that this fight was fixed. The reasoning behind this was how dominant Mayweather looked against the young man and how Nasukawa bounced on the canvas a couple of times when he was knocked down. The other reason is that there has been speculation that RIZIN promotion has fixed fights in the past
However not everyone shares the view that the fight was fixed. Leading MMA Reporter Ariel Helwani said that it would make no sense for RIZIN to fix the fight and let Mayweather come in and destroy their upcoming star.
If it ended in a draw or was a snoozer or if Tenshin won … sure, fix. This only hurt a Rizin and it's star.

— Ariel Helwani (@arielhelwani) 31 December 2018
The reason Nasukawa looked so completely outclassed was because he fought someone twice his age who has spent his whole life boxing and is still the best in the world. Mayweather had a great time in the ring and even danced for his fans.
Floyd Mayweather is reported to have made a cool $9 million for his exhibition match and more importantly has continued to keep his name in the news even though he is still retired.