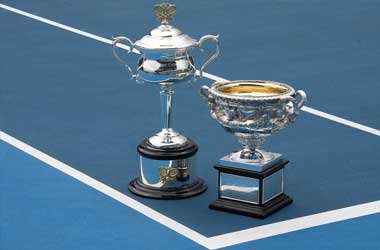 Tennis players from all over the world will head down under in Jan to participate in the first Grand Slam of 2023. The Australian Open is set to take place from 16 Jan to 29 Jan at Melbourne Park.
The 2023 Australian Open will mark the 111th edition of the tournament and the 55th edition since the Open Era. A total of A$76.5 million will be up for grabs in the total prize pool at the Australia Open, which is a 3.4 percent increase of the total prize pool at the 2022 Australian Open. The men and women's singles champion at the Australian Open will walk away with equal prize money with the winner's taking home A$2.9 million while a player who loses in the first round will collect A$106,250.
Another big change at the 2023 Australian Open is that international players will no longer need to produce a COVID-19 vaccination certificate as Australia has dropped the mandatory requirement of producing a COVID-19 vaccination to enter the country.
Tournament organizers at the 2023 Australian Open have gone a step further to announce that players who test positive for COVID-19 during the tournament, don't have to disclose their positive test results anymore and keep playing.
Best Online Sports Betting Sites To Bet On Aussie Open 2023
What Happened Last year
Novak Djokovic caused quite a stir at the 2022 Australian Open as he showed up in Australia without a COVID-19 vaccination which was mandatory at the time and produced a medical exemption. However, his visa was cancelled and Djokovic was deported from Australia and given a 3 year ban from entering the country.
His deportation caused quite a stir with his fans as they felt Australia mistreated him as they should not have granted him a visa in the first place knowing his stance on the COVID-19 vaccination.
As both Roger Federer and Novak Djokovic did not play at the 2022 Australian Open which made things a lot easier for eventual winner Rafael Nadal. The Spaniard had a tough final against Russian tennis pro Daniil Medvedev and ended up winning in the 5th set to win his second Australian Open championship.
Australian Ash Barty went into the 2022 Australian Open ranked as the world's number one and she lived up to her reputation by going all the way to beat Danielle Collins in the final and create a special moment by winning a Grand Slam on home soil. Barty surprised her fans not long after by announcing her retirement from the sport!
Australian Open 2023: Latest Odds
Top female tennis player and four time Grand Slam winner Naomi Osaka caused a stir in the lead up to the Australian Open as she suddenly went missing. Osaka has now confirmed that she will not take part at the 2023 Australian Open as she is pregnant.
Controversial Aussie Nick Kyrgios did not represent Australia in the United Cup and skipped the Adelaide Open citing a leg injury. However, he has confirmed that he will play at the Australian Open and could end up retiring if he wins the tournament!
Russian and Belarusian tennis players will be allowed to take part in the 2023 Australian Open but will not be allowed to play under their countries name or display their flag due to Russia's on-going invasion of the Ukraine.
Djokovic will now play at the 2023 Australian Open after applying for his 3 year visa ban to be overturned and having it successfully repealed, he will be looking to start his year with another Grand Slam win.
* Odds have been provided by BetOnline and are accurate as of 12/01/2023
Mens Prediction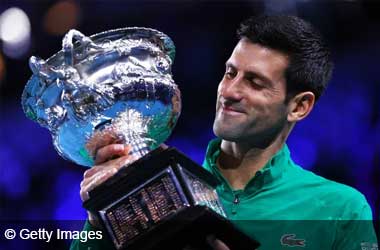 Favourite: Novak Djokovic (-110)
Novak Djokovic has slipped to number 5 in the AT World Ranking and a lot of that has to do with the fact that the Serbian hasn't been able to play at a lot of ATP tournaments due to his reluctance to be COVID-19 vaccinated.
Djokovic missed out on the 2022 Australia Open because of this and will now be keen to make the most of his opportunity to play unvaccinated at the Australian Open. Djokovic has had an amazing run at the Australian Open and has won 9 Australian Open championships. This is why he is out betting favorite to win the 2023 Australian Open.
Sleeper pick: Rafael Nadal (+2000)
Standing in Djokovic's way, will be the 2022 Australian Open winner Rafael Nadal. The Spaniard is the number 2 ranked player in the world and will look to win back to back Australian Open titles and create history.
Nadal will turn 37 in June 2023 and is now a lot closer to retiring and joining Federer. This could very well be the last Australian Open for Nadal given the amount of injuries he has battled in recent years and why we think Nadal is in with a great chance to win at Melbourne Park again as he will hold nothing back!
Longshot: Nick Kyrgios (+1400)
Ash Barty achieved her dream of winning a gram slam on home soil and retiring. Nick Kyrgios has also admitted that he would love to do an Ash Barty by winning the Australian Open and retiring soon after.
Kyrgios had the best year of his tennis career in 2022 but also admitted that it was the most stressful year of his professional career. Kyrgios will have the support of most Aussie fans even though some fans have turned on him in recent times.
Other selected odds
Daniil Medvedev (+650)
Stefanos Tsitsipas (+1600)
Félix Auger-Aliassimee (+2200)
Taylor Fritz (+2200)
Jannik Sinner (+2200)
Women's Prediction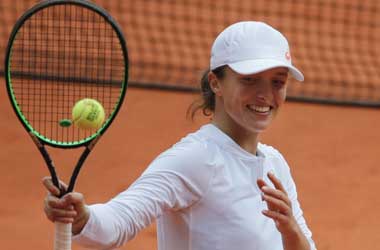 Favourite: Iga Świątek (+250)
Iga Świątek is our favorite to win the 2023 Australian Open as she had a fantastic year in 2022 winning the French Open and the US Open. The young Polish player keeps getting better with every year as expected as she is just 21 years old.
Świątek has won 3 grand slam titles in her career so far but has never won the Australian Open and will be looking to change that in 2023. She has all the tools in her arsenal to dominate women's tennis for the next decade and one of her goals will be to start 2023 like how she ended 2022 with a Grand Slam win!
Sleeper Pick: Ons Jabeur (+1400)
Ons Jabeur also had a great run in 2022 but it's not as memorable as Swiatek's run as Jabeur did not win any Grand Slams in 2022. The Tunisian poker pro made it to two Grand Slam finals but ended up losing both. She lost the 2022 Wimbledon final to Elena Rybakina and the 2022 US Open to Iga Świątek.
The 28 year will look to continue her good run in 2023 but do one better and win her first Grand Slam at the Australian Open.
Long Shot: Coco Gauf (+1400)
Coco Gauf has shown a lot of promise in her short career so far that has caused her to rise to number 7 in the WTA rankings. The 18 year old American came so close to winning her first Grand Slam in 2022 when she made it to the final of the French Open but ended up losing to Iga Świątek.
There are a number of promising Americans vying to win the 2023 Australian Open such as Jessica Pegula, Madison Keys and 2022 Australian Open runner-up Danielle Collins but we do think Coco Gauf will be the one to watch out for at Melbourne Park.
Other selected odds
Aryna Sabalenka (+750)
Jessica Pegula (+1100)
Caroline Garcia (+1200)
Belinda Bencic (+2200)
Veronika Kudermetova (+2500)
Our Predictions
We picked Novak Djokovic to win the 2023 Australian Open not just because he is a 9 time Australian Open winner but also because the draw for the Australian Open is very favourable for Djokovic. He is not scheduled to face any top seeds during the early stages of the tournament as he is on the opposite side of the draw to Rafael Nadal and Stefanos Tsitsipas.
He should make it to the semis and only then face tough competition. Nadal has a more difficult draw but will take confidence from winning the 2022 Australian Open and look to go all the way again in 2023.
Nick Kyrgios will have his work cut out at the Australian Open as he could face the 19 year old and 9th seed Holger Rune in the 3rd round. If Kyrgios gets to the fourth round, he could run into Djokovic, which makes it difficult for the Australian to win his first grand slam but possible as he is playing on home soil.
Iga Świątek is a massive betting favorite to win the 2023 Australian Open as she is in fantastic form. However, she is going to find it challenging as she is likely to run in to last year's runner-up Danielle Collins in the 4th round. If she wins, she could face Coco Gauff in the quarter-finals.
If she gets past Gauff, she could then play Jessica Pegula who is ranked 3rd in the world. Świątek does have a challenging draw but she has the ability to beat all of those players if she is on top of her game.
Ons Jabeur will need to be mentally strong to get through the barrier of winning key points and big games. If she can get her mental game together, it will reflect in her performances and help her win her first Grand Slam.
We gave Coco Gauff a long shot to win as she has to get past Świątek in her draw but has the game to pull off a major upset and win the 2023 Australian Open.