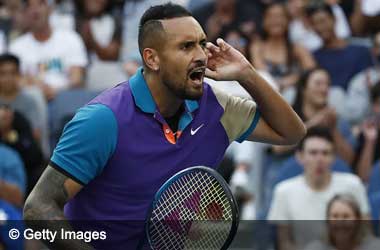 Summary
Nick Kyrgios told media that while 2022 was his most success year, it was also the most stressful
Kyrgios drops hint that he might retire at 2023 Australian Open if he wins
Kyrgios will play the Adelaide Open in preparation for the Australian Open
Aussie tennis star Nick Kyrgios is currently in Dubai where is he is playing exhibition games against the likes of Novak Djokovic. The 27 year made a surprise announcement to the media said that he would retire from tennis if he ends up wining the 2023 Australian Open.
The 2023 Australian Open will take place from 16 Jan to 29 Jan 2023 at Melbourne Park.
Nick Kyrgios Says Too Stressful Being Successful
Nick Kyrgios has had his most successful year playing tennis in 2022 and is currently ranked in 22nd place on the ATP leaderboard and is also the 22nd seed to win the 2023 Aussie Open.
While Kyrgios has enjoyed a lot of success this year, he is also open in admitting that it was his most stressful year playing tennis. He came close to winning his first Grand Slam at Wimbledon in 2022 when he made the final but ended up losing.
Kyrgios told media in Dubai that he would love to win the 2023 Australian Open and just retire. This is exactly what Aussie Ash Barty did after winning the 2022 Australian Open. Barty surprised the tennis community by announcing her retirement from the game soon after.
Kyrgios who has over $12 million in career prize money had said earlier this year that he does not see himself playing past 30. His big goal is to win a grand slam tournament in the singles division as Kyrgios has already won the Australian Open playing doubles.
Kyrgios To Play Adelaide Open
Kyrgios will return from Dubai and then start his prep for the 2023 Australian Open by playing the Adelaide Open in South Australia which runs from 2 to 15 Jan, 2023. Kyrgios has a tough path ahead of him as some of the top players in the world including Carlos Alcaraz, Rafael Nadal and Novak Djokovic (who had a 3 year ban overturned) will play at the Australian Open.
Kyrgios who prefers not play the French Open, recently told media that he will play the 2023 French Open because his girlfriend Costeen Hatzi wants to go to Paris.