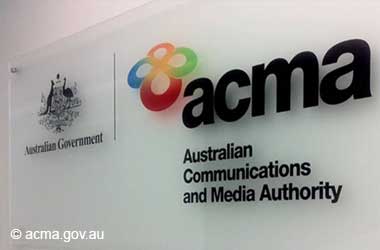 The Australian Communications and Media Authority (ACMA) continues to crack down on illegal offshore gambling and related marketing operations. It has just decided to block even more foreign websites.
The list of newly blocked sites includes 14 names — primarily offshore casinos but also a few gambling affiliate websites.
The 14 names you will find on this list are Aus Casinos, Australia Casino, Axe Casino, Casino4u, Casino-On-Line, Casino Shortlist, Comet Room, Golden Lady Casino, Lucky Dreams, No Deposit Bonus Blog, No Deposit Friend, Online Casino Australian, Paradiso Room and Spin Samurai.
ACMA has further requested that all Australian internet service providers (ISPs) block these websites since they are perceived as illegal.
As a result, Australians will be unable to access them from now on. Those who already have an account in one of these online casinos will be unable to log in.
This was not a sudden decision, as ACMA has stated that its experts have thoroughly investigated the sites in question and have found them to be in breach of the Interactive Gambling Act of 2001.
In the released statement, ACMA has also said that website blocking is an excellent opportunity for the organisation to alert the public of illegal gambling services. It's ideal, as any person visiting a blocked website will be immediately greeted by a message telling them that the site is blocked and explaining why.
ACMA has a lot of other measures at its disposal, but blocking is one of the most efficient ones. However, it always has to rely on the cooperation of Australian ISPs.
In 2017, new online gaming laws and controls were introduced, giving ACMA more power over this matter. Since then, the regulator has banned more than 400 offshore websites that target Australian online gamblers without a proper permit. All of them were then forced to abandon the lucrative Australian online gambling market.
Most of these websites, around 375 of them, were blocked after 2019. This was when ACMA was authorised to order Australian-registered ISPs to block access to the sites that the ACMA believes violate Australian laws.
Of course, this is a never-ending battle for the ACMA. New websites keep popping up, so the organisation must constantly police the web. On top of that, it also needs to locate old offshore gambling sites that target Australian players.
What's more, these platforms have ways to go around blocking. For instance, if they can find a new web address, they can pick up right where they left off before the ban.
And, of course, the sites remain active in other jurisdictions, as ACMA can only order Australian ISPs to block sites. Australians can still find ways of going around the ban — in fact, they often do, as most of them want to continue using their favourite gambling platforms.