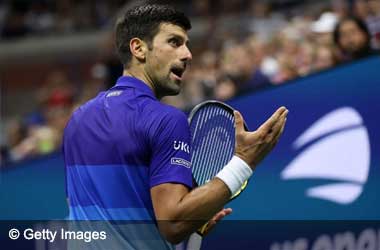 Summary
US extended COVID-19 vaccination rule for international visitors
Djokovic is now set to miss Indian Wells and Miami Open ATP 1000
Djokovic could fall further down the rankings over his COVID vaccination stance
Former world number one Novak Djokovic is currently in Australia preparing to play the 2023 Australian Open.
Djokovic did not play the 2022 Australian Open after he arrived in the country and was later deported due to this anti-vaccination status.
Australia has since dropped the requirements for international visitors to be vaccinated, hence opening the door for Djokovic to play the first Grand Slam of the year. While Australian fans will be happy to see the Serb back in action, US fans are unlikely to see Djokovic play anytime soon.
US Extends Vaccination Rule for International Visitors
The U.S. Transportation Security Administration (TSA) recently announced that it would extend its COVID-19 vaccination requirement on international visitors till April 2023 and will then take a call on dropping the ban or extending it further.
The Indian Wells tournament is set to take place from March 6-19 while the Miami Open will take place from March 19-April 2. Given Djokovic's anti-vaccination stance, he will have to skip both events unless the TSA decides to drop the vaccination requirement in the next few weeks, which seems unlikely.
The 35 year old Djokovic is currently playing the Adelaide Open in preparation for the Australian Open. When he was asked by reporters what he felt about the TSA extending the vaccination requirement, Djokovic said that he is hoping to play in Indian Wells and at the Miami Open but would have to skip it as he wasn't willing to change his anti-vaccination stance.
Djokovic Could Fall Further Down The Rankings
If Djokovic does not play at Indian Wells and the Miami Open, he will end up losing over 2,000 ranking points. Djokovic is currently ranked 5th on the ATP circuit and is likely to fall a lot lower in the rankings if he continues to miss out on major tournaments in the United States.
What will be even more challenge for Djokovic is if the TSA decides to extend its vacation requirement on international visitors till the end of 2023 as that will force Djokovic to miss the 2023 US Open and miss out on even more points and a chance at another US Open grand slam win.