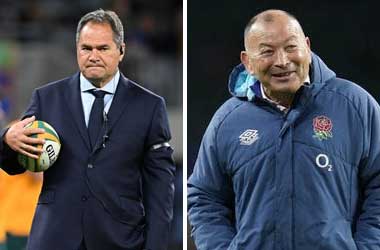 Summary
Rugby Australia sack Dave Rennie after team's poor results
Eddie Jones who was sacked by England handed 5 year contract
Jones will be responsible for Australia's men's and women's teams
Rugby Australia surprised fans on Jan 16 when they announced that they had sacked head coach Dave Rennie.
The sacking comes as a surprise because the 2023 Rugby World Cup (RWC) is set to take place from Sep 8 to Oct 28 in France and Rennie was expected to coach Australia as he has been on the job for the last 3 years.
Dave Rennie Out, Eddie Jones In
Rugby Australia decided that it was time for a change as Australia has struggled in the recent past under Rennie and has slumped to 8th place in the world rankings. The Kiwi coach's recent record shows just 5 test wins from 14 matches, which brings his overall win percentage to just 38 percent as Wallabies coach.
This is the lowest win percentage of any Wallabies coach who has been at the helm for over 30 tests. Instead of hoping for the best at the 2023 RWC, Rugby Australia decided to take a risk and appoint Eddie Jones who coached Australia from 2001 to 2005 and helped them secure a spot in the 2003 Rugby World Cup final.
Eddie Jones was the head coach for England until late 2022 when England decided to sack Jones even though he had a 73 percent win record as coach. England Rugby went through a string of bad performances and Jones surprised everyone when he said he wasn't worried about results and knew what he was doing. That attitude did not impress England Rugby and they showed him the door.
Jones Will Coach Wallabies and Wallaroos
Rugby Australia have given Eddie Jones a 5 year contract that will see him lead the men's team for two Rugby World Cup's. Jones has also been given added responsibility as he will also be responsible for the women's team.
Jones who is Australian said it was a great honor for him to be given the opportunity to coach his country once again. The 62 year old said he was very confident given the depth of talent and skill in Australia, that he could help turn the latest odds in favour of them winning the Rugby World Cup in France later this year, provided everyone was fit and ready to play!