Who Is the Best Tennis Player of All Time?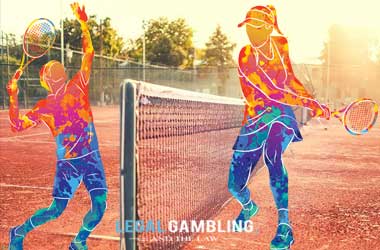 Over the last decade, tennis has been in a golden age. The fans have been graced with fantastic performances, especially in the male competition, thanks to the outstanding talent of the Big Three — Roger Federer, Rafael Nadal, and Novak Djokovic.
The matches they played against one another have gone down in history as the greatest of all time, which is why it should come as no surprise that these three are considered to be the best players ever to set foot on the tennis court.
However, there can only be one GOAT, so I will try to analyze each of their careers and achievements and predict who will come out on top once the golden age is over.
Let's take a look together!
Top 3 Male Tennis Players Roger Federer
Perhaps I should start with Roger Federer, seeing that he has been around the longest. Often considered the king of tennis, Roger has managed to garner millions of fans worldwide, thanks to his beautiful playstyle, exquisite manners off the court and generally charismatic behavior. Based on his popularity only, the Swiss-born is already the greatest of all time in the eyes of many. His popularity is not only based on all the trophies he has won but also on how he won them.
His playstyle is often seen as aesthetically pleasing. As he moves on the court gracefully, you will rarely hear any grunts or see hints of dissatisfaction on his face. He manages to restrain himself even in the tensest of situations, which is something tennis fans applaud.
After all, this sport was once reserved for the nobility, and many of the old conventions are still followed. That is why the fans tend to appreciate his gentlemanly manners and proper conduct.
Of course, Federer should not be praised only for how he conducts himself on and off the court. He is often considered to be the greatest tennis player of all time because he has managed to break multiple records. So far, he has won 20 Grand Slam titles, which makes him the most successful player ever (along with Nadal, but more on that later). Most of those wins have been earned in the All England Club, as he has managed to lift the Wimbledon trophy eight times.
Furthermore, he is the man who has spent the most weeks as the number one ranked ATP player. His unbelievable consistency in his prime has undoubtedly contributed to such an outstanding result. From 2004 to 2013, he never failed to make it at least to the quarterfinals of a Grand Slam tournament, which is quite a feat.
However, this achievement is sometimes disputed since the competition was not as fierce back then as it is now. If I'm honest, I can see why — after all, in the last decade, apart from the Big Three, there have been many players (such as Andy Murray, Juan Martin Del Potro or Stan Wawrinka) who have often managed to pull upsets and beat the favorites. That is why such a streak would probably be slightly more impressive if it had been done more recently.
Still, the mere fact that Federer has managed to remain one of the top players for such a long time despite being almost 40 is undoubtedly one of the reasons why King Roger is in the run for the flattering title of GOAT.
Rafael Nadal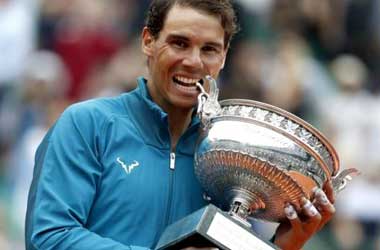 The Spaniard has been a part of this debate for more than a decade, too. The reason for this mostly lies in his success on clay. He has managed to win 60 titles on this surface, which is more than any other player in the Open Era. Furthermore, in 2010, he won French Open, and all three Masters played on the clay court (Monte Carlo, Rome, and Madrid), thus becoming the only player ever to win the so-called "clay slam." Consequently, he has become known as the King of Clay.
Nevertheless, don't think of Rafael Nadal as a one-trick pony for a second! The man has managed to win each of the Grand Slam titles at least once. He is tied with Roger Federer on top of the list of ATP players with the highest number of trophies at the most prestigious tournaments. Also, he has managed to win Olympic Gold, which can't be said for many tennis players.
Rafa has also had quite a career in terms of longevity. He has had the longest timespan between his first (2008) and last (2019) number-one titles at the end of the season, and, so far, he is the only player to be on the top of the ATP list in three different decades.
Unfortunately, though, Rafa's prolific career has been marked with a string of injuries, which have certainly set him back in the GOAT debate. He missed numerous tournaments due to his knee tendonitis, which he has been dealing with since the age of 21.
As a result, some people still believe he needs to accomplish a bit more to overtake the other two. Nevertheless, since he has managed to equal the Grand Slam gap by winning his 13th French Open this year, I believe he has earned his right to be considered for this prestigious title.
Novak Djokovic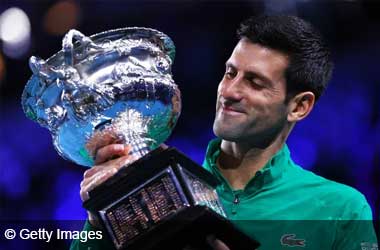 Novak Djokovic known as the "Djoker" entered the GOAT race in 2011 by pulling one of the most incredible winning streaks in the Open Era. Namely, he managed to win 43 times in a row, thus landing on top of the ATP list for the first time in his career. This was only a hint of what was yet to come, as Novak has managed to break numerous records since.
Djokovic is rightfully considered the king of the masters, as he is the only player who has won all nine of the ATP Tour Masters 1000 tournaments — not once, but twice! He has also managed to lift 36 trophies in this category, which is more than any other player in tennis history.
Another thing that puts Novak above the other two is the fact that he has a better head to head score against both of them. He faced Roger in 50 matches and has managed to beat him 27 times. Rafa, on the other hand, has lost 29 out of the 56 matches they played.
Nevertheless, in terms of Grand Slam titles, he lags behind Rafa and Roger slightly. As I have mentioned, the two have won 20 trophies each, whereas the Serb has been victorious 17 times. However, just like his rivals, he is the proud owner of a Career Slam, as he has lifted each GS trophy at least once.
Unfortunately, though, Novak's career has been stained with a couple of scandals, as well. The most recent one is his disqualification from the US Open after he recklessly hit one of the line judges in her neck with a ball. The tennis world was up in arms over this, and many fans were disappointed with such negligent conduct on Djoker's part.
Still, by looking at the numbers alone, Novak seems to have a slight advantage over the other two. He is the current world number one, and if he manages to remain in this spot until March 8, 2021, he will become the player with the most weeks as ATP number 1. In case he wins a couple more Grand Slams — which is a likely scenario — he could become the clear-cut answer to the titular question.
Until we know for sure, let's enjoy the golden era of tennis for as long as we can!