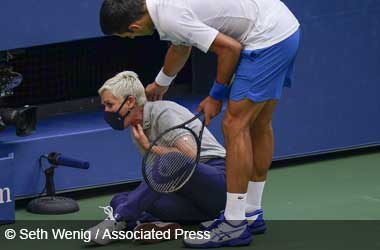 Novak Djokovic was expected to lift the 2020 US Open as there was no Roger Federer or Rafael Nadal in the mix to pose any challenge to the number one ranked player in the world. However, the men's field is now open as Djokovic has been disqualified from the US Open.
Djokovic took on the 20th seed Pablo Carreño Busta in the round of 16 and was expected to cruise to victory.
However, Busta played well and pushed Djokovic in the first set which caused the Serbian player to be on edge. Djokovic lost his temper during the first set and ended up accidentally hitting the lines lady in her throat.
The rules state that if you hit a ball in anger and it ends up hitting anybody, you will automatically be disqualified from the tournament. The referee made the decision to eliminate Djokovic who was aghast at seeing the lines lady in pain.
7NEWS Australia
Djokovic skipped the post-match interview and reportedly left New York soon after. He issued a public apology via his Instagram a few hours later.
Instagram Apology
Djokovic posted on his Instagram
This whole situation has left me really sad and empty. I checked on the lines person and the tournament told me that thank God she is feeling ok. I'm extremely sorry to have caused her such stress. So unintended. So wrong. I'm not disclosing her name to respect her privacy
The Instagram post went on to say
As for the disqualification, I need to go back within and work on my disappointment and turn this all into a lesson for my growth and evolution as a player and human being. I apologize to the @usopen tournament and everyone associated for my behavior. I'm very grateful to my team and family for being my rock support, and my fans for always being there with me. Thank you and I'm so sorry.
Djokovic Gets Flak On Social Media
Djokovic got a lot of flak on social media for failing to appear for the post-match interview and address the press directly. Sam Groth who represented Australia in the past during the Davis Cup said he was disappointed that the number one player in the world did not lead by example.
Groth said Djokovic should have faced the media and issued a public apology in person. Controversial Australian player Nick Kyrgios who himself has had some moments of madness said that if he was the one who had hit the lines person, he would have been banned for x amount of years.
Swap me for jokers incident. 'Accidentally hitting the ball kid in the throat' how many years would I be banned for?

— Nicholas Kyrgios (@NickKyrgios) September 6, 2020