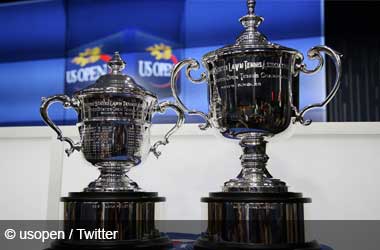 The 2020 US Open will mark the 140th edition of the US Open and the second Grand Slam event of the year following the Australian Open which took place in January.
As per usual, US Open will take place at the USTA Billie Jean King National Tennis Center, from Monday, August 31 to Sunday, September 13, featuring only the world's elite men and female tennis players.
The US Open is normally the fourth and final Grand Slam event of the year, scheduled for the last Monday of August to the second Sunday of September and is widely regarded as the peak of the North American hard-court season.
Due to the COVID-19 pandemic, which has in one way or another affected all other sports around the world, however, this year's US Open will mark the penultimate Grand Slam, and will be succeeded by the French Open, which will be held from September 28 – October 5.
Best Online Sports Betting Sites To Bet On
The tournament will consist of only the men's and women's singles and double draws. Both draws will be cut to only 32 players instead of the standard 64 while singles will remain in the standard 128-person format in each category. As announced this year's tournament will not feature qualifying matches, mixed doubles and junior matches, whereas the decision to not host wheelchair tournaments has been reverted following a wave of criticism.
Amid the COVID-19 concerns, the US Open will be held behind closed doors, meaning there will be no live audience for the first time in the tournament's history as well as in the Grand Slam's 143-year history. All participants including the players and the team members won't need to be quarantined, however, must get tested for the virus before travelling to New York and will be subject to further tests during the tournament.
As announced by the organisers, all personnel will have to wear masks at all times except when practising, training and during the games. In case a player is positive for the virus, he/she will be forced to withdraw from the tournament and forfeit their matches.
Despite all the preventive measurements, numerous player withdrawals, and slight change of format, the US Open is bound to produce another two weeks of excitement for tennis and sports fans alike with some of the world's best tennis players vying for the prestigious title and the lion's share of the hefty prize pool.
* Odds have been provided by BetOnline and are accurate as of 28/08/2020
Mens Prediction
Favourite: Novak Djokovic (-150)
There are not many tennis players who can compare to Novak Djoković when he is playing at his best and we can be sure that the Serbian tennis superstar will show off all of his talents in any Grand Slam he enters. As it was the case last year, Djoković is entering the US Open as the odds-on favourite, which is not entirely shocking considering his two main rivals in Rafael Nadal and Roger Federer won't participate at the tournament.
This leaves doors wide open for Djokovic to solidify himself as the ATP frontrunner and claim his fourth US Open title. The only concern with Djokovic is whether he will manage to perform at a high-enough level after a long pause, especially considering there are many younger and better-prepared players in the field, who could benefit from the situation. Nevertheless, Djokovic is still the man to beat.
Sleeper Pick: Dominic Thiem (+500)
Dominic Thiem is still looking to win his first Grand Slam title but that is not to say he didn't come close to achieving the monumental accomplishment before. So far, the Austrian tennis pro managed three grand finals appearances which include two at French Open (2018 and 2019), as well as one at the start of the year at the Australian Open, unfortunately, he failed to deliver in all three.
Since Nadal decided to skip the tournament, Thiem could get the second seed if he confirms his attendance, meaning he won't meet with Djokovic en route to the finals, effectively granting Thiem an opportunity at making another grand finals appearance. What happens there, however, will remain in his hands.
Longshot: Daniil Medvedev – (+550)
Daniil Medvedev will enter the 2020 edition of US Open as the fifth-highest player on the ATP singles standings with 5890 points, just 1155 short of reaching Dominic Thiem. Throughout his illustrious carer, Medvedev has yet to win a single Grand Slam, however, it's hard to ignore his grand finals appearance in the 2019 US Open.
By reaching the final stage of the competition last year, Medvedev further confirmed he can compete with the best players and while he eventually had to admit defeat to Rafael Nadal, Medvedev deserves a lot of praise for forcing the Spaniard to five sets. What makes Medvedev a very solid pick for the US Open is not only the thinner field, but also the fact that he is very efficient on hard courts and since he had more than enough time to rest up, we can expect to see the best version of him in the upcoming weeks.
Other Selected Odds
Milos Raonic (+2000)
Andy Murray (+3300)
Marin Cilic (+4000)
Nick Kyrgios (+4000)
Notable players who decided to skip US Open: Rafael Nadal, Roger Federer, Nick Kyrgios, Stan Wawrinka, Gael Monfils
Womens Prediction
Favourite: Serena Williams (+400)
It seems like an eternity since Serena Williams won her last Grand Slam, but that doesn't mean we should write her off entirely for the 2020 US Open. Williams has been and will always be a dangerous threat for any Grand Slam title, which especially holds true for tournaments that happen on her home soil. She last had the opportunity to win the US Open in 2018 where she lost to Oska in the final.
In her career, Williams won US Open twice (1999, 2009), while she won her last Grand Slam in 2016 at Wimbledon. There are arguments to be made Williams is not as good as she was and while there might be more talented players in the field, Serena is not to be overlooked.
Sleeper Pick: Naomi Osaka (+350)
It's difficult to know what to expect from the Japanese tennis prodigy. She was once regarded as the successor of Serena Williams but failed to live up to the hype due to lack of any serious consistency throughout 2019 and into 2020.
Nevertheless, she will be entering the US Open following a solid run through Cincinnati Masters, which is a strong indication that she still has a lot more to show. She won the US Open in 2018 but fell apart in the fourth round of 2019 US Open when she lost to Belinda Bencic. Will Osaka manage to repeat her success from 2018 is anyone's guess, but with a long list of rivals deciding to skip the event, she is surely the player to watch,
Longshot: Madison Keys (+1400)
The 25-year-old has some experience in this event, as she was runner up back in 2017. Keys is currently ranked 13th in the world, after picking up the highest ranking of her career at 7th. The Illinois native has won over 60% of her singles matches but has yet to win a major final.
The matchup is right, and Keys will certainly feature her overpowering serve, and look to keep the game going with her forehand. She has admitted in the past that her backhand remains a weakness. The ability to really strike the ball puts her overtop many others in this tournament. If you are her opponent, you will need to be strong on your feet to remain in the match with Keys.
Other Selected Odds
Karolina Pliskova (+800)
Petra Kvitova (+1000)
Johanna Konta (+1600)
Angelique Kerber (+2200)
Notable players who decided to skip US Open: Kiki Bertens, Bianca Andreescu, Elina Svitolina, Simona Halep, Ashleigh Barty, Kiki Bertens, Belinda Bencic
Our Predictions
Due to many top-tier players deciding to skip the US Open, the field has become very favourable for the remaining few. In the men's category, it's difficult to look past Novak Djokovic, but if we look at the betting odds and consider the seeding, it would make much more sense to side with Dominic Thiem. It's still unknown whether he will end up confirming his participation, but if he does, betting on him to win or at least place a wager on the Austrian pro to reach the grand finals seems like a solid pick.
On the other side, Naomi Osaka stands out as the player to beat, especially considering how thin the women's field is. Out of top 10 players on WTA standings, all but Karolina Pliskova and Sofia Kenin have confirmed they will not attend, leaving Serena Williams as the only confirmed attendee. Although Osaka has yet to announce her attendance, she has reportedly flown to Los Angeles earlier this week, meaning she is all but confirmed to contest her first US Open title.