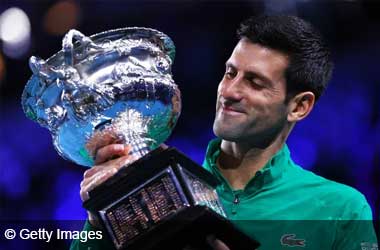 After a whirlwind five-set match, Novak Djokovic defeated fifth-seeded Dominic Thiem (both of which we looked at in detail in our preview of the tournament) in the men's final to win his eighth Australian Open after clawing his way from being down two sets to one.
The final scoreline read 6-4, 4-6, 2-6, 6-3 and 6-4, played out over nearly four hours at the Rod Laver Arena.
Djokovic's win has now given him the world number one ranking again as he has pushed out Rafael Nadal. Djokovic now holds 17 major singles titles, behind just Roger Federer (20), and Nadal (19).
Djokovic admitted that the end result could have gone the other way. After he lost the third set to Thiem, Djokovic faced a break point in the opener of the fourth-set, where he strayed from his comfort zone in the baseline and used the serve and volley tactic to disrupt Thiem's play.
Australian Open TV
The daring switch worked. Djokovic held serve using a series of backhand volleys at the net, taking the fourth set. The serve and volley tactic emerged again later in the fifth set, when Thiem had a break point, helping Djokovic dig his way out of trouble.
Djokovic freely conceded in a post-match conference with the media that Thiem would likely have dealt him his first Australian Open loss if he had not brought out the serve and volley tactic during the break points. While it worked both times, Djokovic stated that because he was not used to the strategy, it was a gamble that could have gone either way.
For his part, the Austrian rising star Thiem (our longshot pick) still appeared to be in a bit of shock after being so close to a breakout victory. He was very candidate with the media saying that he felt empty after leaving so much of himself on the court and still losing—but in the end, Thiem said that he regretted nothing about his play.
Djokovic's nail-biter victory came after taking a medical timeout at the close of the third set, for what medical staff suggested might have been dehydration.
Sofia Kenin Wins First Major Title
In the women's division which surprised many including ourselves , Sofia Kenin made history by becoming the youngest champion in the last 12 years of the Australian Open by beating Garbiñe Muguraza 4-6, 6-2, 6-2. This was her first Grand Slam title.
Kenin is 21 years and 80 days old, 22 days younger than Naomi Osaka was when she won a major final last year. Kenin is the youngest player to win in the Australian Open since Maria Sharapova won at 20 years old in 2008. Martina Hingis remained the youngest Australian Open champion ever, winning the 1997 Open at 16 years old.