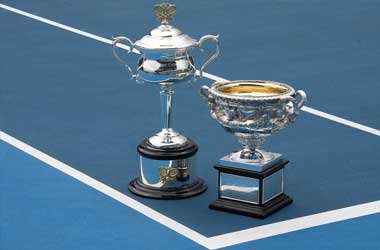 The 2020 Australia Open is already underway, yet the most exciting part of the tournament is just around the corner, as world's best male tennis players fight their way through qualifiers, to secure a ticket leading to Melbourne Park, where the main event will kick off.
This year will mark the 108th edition of the Australia Open and the 52nd in the Open Era. The 2020 Australia Open will also be the first Grand Slam of the year, so it's safe to say all players will look to hoist the trophy and start 2020 on the right foot.
The tournament will run from 20 January to 2 February 2020, consisting of events for professional players in singles, doubles and mixed doubles. Novak Djokovic and Naomi Osaka are the defending champions in Men's Singles and Women's Singles respectively.
Best Online Sports Betting Sites To Bet On
The prestigious tournament, however, will have one more factor, which might change the course of the event. The ongoing bushfires, which burned down a large portion of Australia in recent months left a smoke fog over Melbourne, which already affected the tournament. The qualifiers were delayed and we had seen several medical timeouts called out from the players, while Dalila Jakupović was forced to retire due to coughing which was caused by the poor air quality.
How will the conditions affect the players in the upcoming weeks is anyone's guess, but one thing is for sure – the poor air quality will without a doubt be a huge factor in player's performances.
Tennis Now
* Odds have been provided by Bwin and are accurate as of 15/01/2020
Mens Prediction
Favourite: Novak Djokovic (5/4)
The Men's defending champion, Novak Djokovic will travel to Down Under hoping to win a record eighth title in Melbourne, where he won his first Grand Slam in 2008 and has since created a special bond with Australia.
I've had an amazing ten years in Australia going back to the first grand slam I won in Melbourne in 2008. Ever since then it has been a love affair
Djokovic is without a doubt one of the ATP's best player ever, yet he still has a lot to prove in his slam race against Rafael Nadal. The duo have been toe to toe in recent years, as they race to reach Federer's 20 major titles. Nadal closed his gap to only one, while Djokovic is still four short, yet the Serbian pro has the benefit of the time in his favour, despite that advantage being only one year.
Last year, Djokovic defeated Nadal in straight sets here to win his seventh title and we can be sure he will look to make it eight this February.
Sleeper Pick: Stefanos Tsitsipas (12/1)
The 21-year-old Stefanos Tsitsipas is the youngest player ranked in the world's top ten, sitting at sixth place following his impressive finish of 2019 season.
Tsitsipas concluded last year with his fourth title, having qualified for ATP Finals for the first time in his career. He put up a show in the round-robin groups and reached the semis, where he defeated Federer to advance into the finals, where he bested Dominic Thiem. That said, the Greek also had a strong start of the season, as he reached his first Grand Slam semi-finals in Australian Open, before he crashed out of the event against Nadal (2-6, 4-6, 0-6).
He has shown before he has the potential and skill to impress, and we believe he is a solid sleeper pick with +1100 odds.
Longshot: Dominic Thiem (16/1)
The two time French Open finalists, Dominic Thiem is one of the few players who came close to winning on the major stage, yet always seemed to fall short.
The five-time tournament champion in 2019, Thiem has improved significantly and looks like he is bound to one day become one of the elite. His serve has improved as well as his shot accuracy. Thiem has also grown to be a net fisher, so the more he can come forward on any surface, the better are his chances to triumph, and with that in mind, and we believe the hard surface in Australia can and will benefit him.
Nadal bested Thiem at last years Roland Garros, however, the Austrian has four wins over Nadal on hard courts, so should they meet in Australia, we could see Thiem coming out on top.
Other Selected Odds
Rafael Nadal (9/2)
Roger Federer (11/1)
Nick Kyrgios (25/1)
Stan Wawrinka (66/1)
Milos Raonic (125/1)
Womens Prediction
Favourite: Serena Williams (4/1)
Serena Williams is priced at the shortest odds to win in Australia, which would mark her 24th Grand Slam singles title. That being said, she has not won a Grand Slam title in three years. In fact, she has lost four major finals in a row, which is worrying, to say the least.
Suffice to say, Williams is desperate to claim her eighth Australian Open title, but desperation alone won't be enough to break her streak of underwhelming results. She won here in 2003/05/07/09/10/15 and 2017.
Last year, she bested Tatjana Maria, Eugenie Bouchard, Dayana Yastremska and Simona Halep. Unfortunately, the American failed to defeat Karolina Pliskova in the quarter-finals (4-6, 6-4 and 5-7).
Sleeper Pick: Ashleigh Barty (8/1)
Ashleigh Barty is the top-rated women's player who had a coming-out party in 2019 when she won her first grand slam title at the French Open. With that, Barty also became the first-ever Australian to win a grand slam singles title since Sam Stosur who won the US Open in 2011.
Last year, Barty reached quarter-finals in Melbourne, only to suffer a crushing defeat against Kvitova (1-6, 4-6), who went on to reach the grand finals.
The 23-year-old should easily be considered as the top dog here and while she still has a lot to prove, Barty has shown enough last season to make us believe she can impress and keep the title at home.
Longshot: Naomi Osaka (15/2)
Naomi Osaka is the reigning Australian Open champion having defeated Petra Kvitova in the grand finals (7-6, 5-7, 6-4) and with that became the first woman to win a consecutive grand slam since Serena Williams in 2015.
Osaka will enter Australian Open as the fourth seed, just like she did last year, but she seems to be slightly underrated by the bookmakers. We can't ignore the Japanese star has won three titles last year and US Open in 2018, so she is a very solid pick to win her second consecutive title in Australia.
Other Selected Odds
Simona Halep (9/1)
Petra Kvitova (20/1)
Sloane Stephens (33/1)
Caroline Wozniacki (40/1)
Maria Sharapova (66/1)