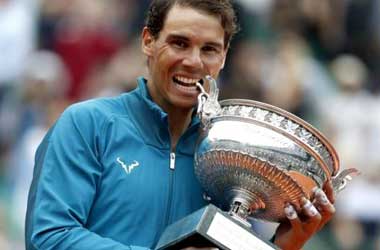 If there was ever any doubt that the Spaniard Rafael Nadal was the most dominant clay court tennis player in the history of the game, it was put to rest on Sunday evening at Roland Garros when Nadal continued to make history by winning his 12th French Open championship (as we predicted).
Nadal defeated Dominic Thiem in four sets, winning 6-3, 5-7, 6-1, 6-1.
The 25 year old Thiem was trying to win his first French Open championship but failed to put up much of a fight as it appeared that his 5 set semi-final battle with the number 1 seed Novak Djokovic took a lot of steam out of him.
Rafael Nadal now has 18 Grand Slam wins to his name but 12 of those victories are at the French Open where he has proven to be unstoppable over the years. There have been concerns raised over the last few years as to whether Nadal will be able to continue his dominance given the fact that he is now 33 years old and is coming to the end of his career.
Eurosport
However with a dominant performance on Sunday, it looks Nadal who is currently ranked number 2 in the world will continue to play for quite a few years more, provided he can stay injury free. The King of Clay has never lost a final at Roland Garros and will most certainly want to return in 2020 to defend his championship.
Nadal received a cheque for around $2.6 million while Thiem took home a cheque for $1.3 million.
Nadal Keen To Surpass Federer Record
While Nadal looks certain to play a few more years, his long-time rival Roger Federer whom he beat in the semi-finals is a lot more closer to the finish line as he will turn 38 in August. Federer has 20 Grand Slam titles to his name and will look to make it 21 at Wimbledon 2019 which is his favourite Grand Slam.
Nadal admitted that he is motivated to keep playing as he would like to eventually surpass Federer's record of winning the most number of Grand Slam tournaments. However, the Spaniard made it clear that his happiness or legacy will not be determined by this goal as he feels that he has already accomplished more than he ever thought he would in the sport!