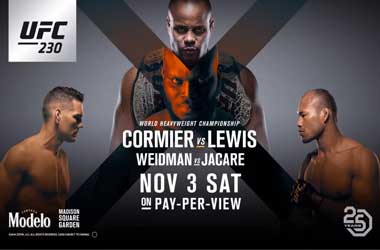 The Ultimate Fighting Championship (UFC) makes it return to the iconic Madison Square Garden (MSG) on Nov 3 with UFC 230.
The UFC has had a great run in New York ever since the MMA ban was lifted and fight fans from all over the East Coast are expected to fill MSG.
The UFC usually sets up fantastic cards for MSG but this time the promotion struggled with finalizing a main event and also had to work quickly to make replacements fights due to the injuries of some of the scheduled fighters.
The Main Event will see the Daniel 'DC' Cormier who is the lightheavy weight and heavyweight champion take on Derrick 'The Black Beast' Lewis for the heavyweight title.
Cormier took the fight on less than a month's notice and Lewis just fought at UFC 229. The Champ Champ goes into this fight as a heavy favourite with -700 odds as DC has never lost at heavyweight before. DC has better wrestling, better cardio and better fight IQ than the Black Beast and predicts that he will most likely submit Lewis in round three.
The Black Beast's popularity skyrocketed after his epic comeback at UFC 229 in the final minutes of round three. His comment during his post-fight interview where he stripped to his underwear and said 'My balls was hot' went viral and saw his Instagram following go up from 500k to over 1.2 million in a matter of 48 hours. The Beast promises to knock DC out and become heavyweight champ.
UFC – Ultimate Fighting Championship
Co-Main Event: Weidman vs. Jacare
Chris Weidman was expected to fight Luke Rockhold at MSG but that fight got cancelled after Rockhold suffered another injury. The New York native was keep to fight at MSG and he will now take on Brazilian Jacare who is a tough match up for the All America. Weidman enters as the favourite with -164 odds and knows that if he wins this middleweight bout, he could very well get a title shot against the winner of Robert Whittaker vs. Kelvin Gastelum.
Other Exciting Fights At UFC230
The UFC 230 card may not be as stacked as previous MSG cards but there is still a great line-up of fights that will give MMA fans a lot of action. Some of the other fights on the card include Derek Brunson vs. Israel Adesanya, David Branch vs. Jarod Cannonier and Jason night vs. Jordan Rinaldi.