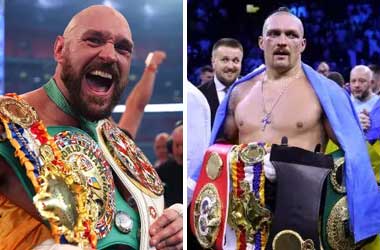 Summary
Frank Warren shares latest news on Tyson Fury vs. Oleksandr Usyk fight
Warren says fight will not take place on April 29, unless agreement signed this week
No plans for Fury to fight Anthony Joshua anytime soon
Boxing fans around the world continue to wait in anticipation for a fight between WBC heavyweight champion Tyson 'The Gypsy King' Fury and Oleksandr Usyk who is the WBA, IBF, and WBO heavyweight champ.
There were talks that the two fighters would step into the ring on April 29 and fight to unify all belts.
However, no bout agreement has been signed and Fury's promoter Frank Warren has given fans a new update.
Warren Says Bout Agreement Must Be Signed This Week
Frank Warren and Tyson Fury are keen for the boxing bout to be United Kingdom on April 29 and have been pushing Oleksandr Usyk's camp to sign the bout agreement. However, there has been a lot of discussions taking place behind closed doors but it does not look like both sides are close to an agreement.
Warren said that unless the bout agreement is signed by the end of this week (11 March), can the fight take place on April 29. If the bout agreement is not signed by the end of 11 March, then there is no indication if the fight will be scheduled for a later date this year or called off for now!
Warren said the two camps were still debating financial arrangements but wasn't willing to divulge any further information. Fury's camp also had a fight with Anthony Joshua (AJ) fall through last year when they continued to push AJ's camp to sign a contract and fight Fury on the date he wanted but AJ's camp ended up backing out.
Fury Will Not Have A Big Name Opponent For April 29
If talks with Oleksandr Usyk's camp fall through and Fury is still adamant of fighting on April 29, he is unlikely to have a big name opponent as all of the top heavyweight fighters are busy.
Anthony Joshua's is set to fight Jermaine Franklin on April 01 in the 02 Arena while Deontay Wilder who he has fought thrice is looking to fight Andy Ruiz Jr. next and Brit Joe Joyce that Fury was keen on fighting will also fight in April as he is set to take on Zhilei Zhang!