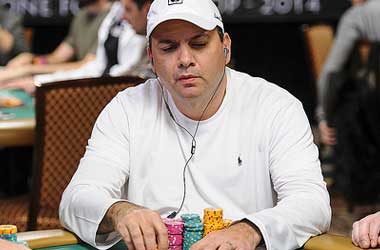 Top poker pros Erik Seidel, John Juanda, Zachary Clark are suing Californian poker pro Seyed Reza Ali Fazeli after Fazeli allegedly scammed them for tickets to the 2017 NFL Super Bowl.
According to court documents, Fazeli is now facing wire fraud charges after Seidel, Juanda, and Clark handed over a total of $1.3 million to Fazeli's company, Summit Entertainment Group which apparently was to be used to purchase tickets to the Super Bowl.
According to promissory notes given to the players, Fazeli was supposed to purchase Super Bowl tickets with their investment and sell them for profit via his website www.onlinetickets.com.
He would the return the investments to the players ($500,000 each from Seidel and Clark, and $300,000 from Juanda) and break the profits 50-50 amongst them. But apparently, Fazeli never got around to purchasing the tickets. He took the money to pay off his debts and play high-stakes poker tournaments at the Aria and Bellagio in Las Vegas. Investigations also found that in 2015, Fazeli pulled off a similar stunt with Republican donor Mel Sembler. According to the lawsuit filed by Sembler, he gave Fazeli $5 million to buy and sell tickets for major sporting events like the 2016 NCAA Men's Basketball. Fazeli convinced Sembler to reinvest their profits at the 2017 Super Bowl, and then at the 2018 FIFA World Cup.
But Sembler grew suspicious since he never received the agreed-upon payment.
Poker Pros Take The Legal Route
According to the suit filed by Erik Seidel, John Juanda, Zachary Clark, Fazeli told them that he's going to earn back their money by playing poker. But it was a promise too hard to fulfil as he was only increasing his debt by failing at poker tournaments.
In fact, it's not just the three poker pros and Sembler who are going after Fazeli. Aria Casino is also suing Fazeli for unpaid casino markers on 34 occasions of credit. A look at Fazeli's lifetime earnings as a poker player shows more than $2 million in winnings with most of them coming from high-roller tournaments at the Aria. But by 2016, Fazeli had stopped winning and went on to rack up $2.1 million in debt to Aria.
According to the lawsuit, Fazeli has since paid back $1 million and still needs to pay back the remaining $1.1 million. This is on top of unpaid casino markers the Bellagio issued to him in January 2017, amounting to $500,000.
Fazeli was arrested last month and charged with two felony wire charges, but was released on a $120,000 bond. Fazeli has pleaded not guilty to both counts. If he is convicted, he might just be spending the rest of his life in jail as he will be slapped with a 40-year imprisonment, 20 years each for each count.