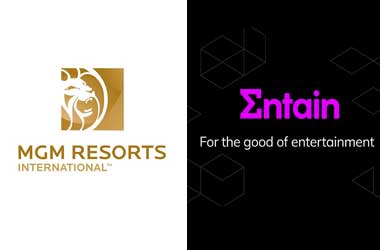 MGM Resorts appeared to be very keen on acquiring UK gambling giant Entain – formerly known as GVC Holdings. The two companies have a fifty-fifty partnership in BetMGM which is MGM Resort's sports betting operator.
MGM was keen on expanding its presence into the online gambling market and an acquisition of Entain would have given them a strong online portfolio.
Entain controls some of the most popular online brands in the gaming industry which include partypoker – the second biggest online poker site in the world, FoxyBingo, Coral and Ladbrokes.
MGM's first offer in 2020 to acquire Entain for around $10 billion was turned down as the company felt the offer was quite low. MGM made a second offer in early Jan 2021 and raised the stakes to $11 billion. It did not take long for Entain to reject the offer and once again said that the acquisition offer was way too low.
Bloomberg Markets and Finance
Entain said that it believed its portfolio was worth a lot more but did not put a number on it. There were reports that MGM Resorts would once again speak to its shareholders and come back with a third offer the company's biggest shareholder IAC/InterActiveCorp was very keen to acquire Entain.
IAC chairman and billionaire Barry Diller who is also on the board of MGM listed out five key points as to why MGM should proceed with the acquisition process. IAC was willing to pump in more cash in order to get MGM to complete the acquisition.
However, MGM Resorts has decided to pull out of the acquisition process and has confirmed that it will not be making a third offer for Entain. The news does come as a surprise as market analysts predicted that MGM would go after Entain as this was a strategic acquisition that would make MGM a huge player in the online gambling market.
MGM To Concentrate On Other Ventures
MGM confirmed that it will still focus on strengthening its sports betting options in the United States. The casino operator will also focus on other ventures which includes going after a casino license in Japan.
MGM had earlier expressed plans to obtain an integrated casino license and invest up to $10 billion in developing a casino in Japan. MGM will also continue to focus on its casino properties in Macau.