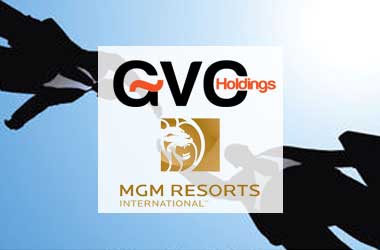 American gaming powerhouse MGM Resorts International has set its sights on acquiring UK gambling giant GVC Holdings Plc.
Technically speaking, MGM Resorts is looking to acquire Entain which is what GVC Holdings rebranded to in late 2020.
The news does not come entirely as a surprise as MGM Resorts had made an offer to buy Entain in 2020.
However, the all-cash offer of $10 billion was turned down by Entain. This time around, MGM Resorts has put in a better offer but no details on the offer have so far been officially disclosed.
The first offer from MGM involved Entain receiving around £12.85 per share or the equivalent of $17.56 based on existing currency exchange rates. The second offer is reportedly a better offer and involves both cash and also a stock component.
The new offer has reportedly been backed by MGM Resort's biggest shareholder which is IAC/InterActiveCorp. As of now, there is no indication as to whether Entain will be interested in the new offer from MGM or whether the company will once again reject the offer.
Should Entain end up accepting the acquisition proposal, it will turn MGM Resorts International into one of the biggest gambling powerhouses in the world as MGM's portfolio of land based and online gaming casinos will increase significantly.
Entain is the parent company of a number of popular gaming brands including Ladbrokes and partypoker which is the second biggest online poker room in the world. Entain acquired the Ladbrokes brand in 2018 after shelling out close to $5 billion.
MGM Looking At Online Expansion
MGM Resorts International has a reputation of being one of the most popular land base casino operators in the world. MGM has a strong presence in the United States and operates popular casinos such as the Mirage, Bellagio and MGM Grand. It also has a strong presence in Macau where it operates casinos like the MGM Cotai and MGM Macau.
MGM currently has a market value of close to $16 billion. The casino operator is looking to strengthen its online gaming portfolio and the acquisition of Entain will allow MGM to do exactly this and become a major player in the global iGaming market quickly.
MGM had a tough year in 2020 due to the COVID-19 lockdown and ended the year with a 5 percent decline in share prices. Entain on the other hand had a good 2020 due to the surge in iGaming traffic and ended the year with a 30 percent share value increase, also brought on by the potential acquisition rumours.