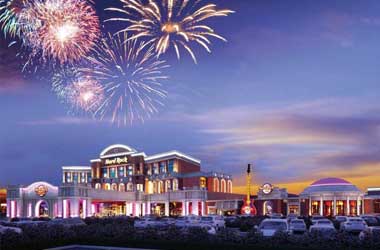 Summary
New poll shows strong support for the Hard Rock development.
Plans include a casino near I-94 and 60th Street.
The tribe says the property will bring more revenue to the city and county.
It's been only three months since the Menominee Indian Tribe of Wisconsin announced they are trying again to bring a casino to Kenosha, Wisconsin.
Yesterday, the tribe revealed the results of a new survey that indicates residents are on board for the entertainment center and casino property.
A few years ago, the tribe teamed up with Hard Rock International to create a casino at the former Dairyland Greyhound Park of Kenosha. The plans were not approved by the governor and now the two are trying again in a different location.
New Casino Plans and Support
Hard Rock and the Menominee Tribe would like to create a casino in Kenosha near I-94 and 60th Street. In a recent press release, chairman of the tribe, Ron Corn Sr., stated that residents support the project by a wide margin.
The chairman stated that residents see the value of attracting visitors to the area and those individuals will spend money locally and the property will create more jobs. The project will not only raise money for Kenosha but also the county.
The poll was conducted for the tribe by the Tarrance Group located in Virginia. A total of 600 residents were polled by telephone in late September. Half of the individuals surveyed were located in Kenosha County and the other 300 were located in Milwaukee, Waukesha and Racine counties.
Of that number, 60% were in favor of the project. Only 16% were opposed. The highest support came from Waukesha County followed by Racine. The most support based on age group came from individuals 35-54 years old.
Details of the Proposed Casino
What about the actual Wisconsin casino project? What will it entail? The new site for the Hard Rock casino is located in the city limits of Kenosha but owned by Bristol. The Village Board and Community Development Authority voted back in July to sell the property to Hard Rock. The company paid $15 million to purchase the 59.2 acres.
The project will include a casino and a hotel, plus a Hard Rock Café, live music venue, and additional amenities. Because this is a new project on a different site than before, it will need to have a revised gaming application sent to the federal government. Intergovernmental agreements also need to be reached before the plans can move forward.
It will take some time, but hopefully the plans will be approved and the tribe and Hard Rock can move forward with plans to bring a US casino to Kenosha.