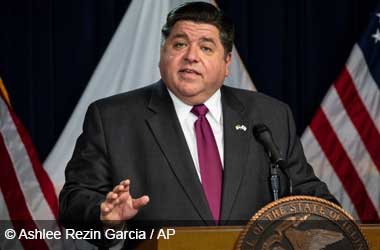 Governor Jay Robert "J. B." Pritzker of Illinois signed an executive order last week that is expected to clear the way for statewide mobile betting ahead of schedule.
Last year, Gov. Pritzker spearheaded a gambling reform initiative that legalized sports betting and expanded the reach of brick and mortar casinos within the state.
On March 9, Illinois officially launched sports betting via the Rivers Casino Des Plaines. The launch was immediately cut short a week later by the COVID-19 pandemic, which forced non-essential businesses such as casinos to shut their doors to curb the spread of the coronavirus.
There is no word on when Illinois' casinos will be permitted to reopen.
Remote Registration Allowed for State Punters
Gov. Pritzker's executive order opens the door for Illinois punters to register digital sports wagering accounts remotely, a departure from last year's gambling reform initiative that mandated in-person registration through sports facilities, casinos, or racetracks before being allowed to bet online.
The order will apply until the time that the Illinois Gaming Board (IGB) awards its first master license for sports betting. As of right now, only two casinos in-state are allowed to provide sports betting temporarily: the Argosy Casino Alton and the aforementioned Rivers Casino Des Plaines.
Eyewitness News WEHT WTVW
Illinois has seven land-based casinos and three racetracks, all of which can apply for sports betting licenses from the IGB. Neither the Argosy nor the Rivers Casino have applied for master permits; no announcement has been made by either party on the issue or their plans for the future.
Gov. Pritzker's latest move is expected by industry observers to expedite the launch of statewide mobile betting in Illinois. Currently, no timeline has been offered for the launch of digital betting, either by licensed operators or state regulators.
IGB's June 11 Meeting to Shed More Details
The IGB's next virtual meeting is scheduled for June 11, their first since January 30. More details are expected to emerge after the conclusion of the meeting on the state of digital sports betting in Illinois.
The IGB's administrator Marcus Fruchter noted that Gov. Pritzker's executive order is aimed to protect a critical revenue source for the state in the wake of the financial havoc caused by COVID-19.
The Executive Director for the Illinois Casino Gaming Association, Tom Swoik, welcomed Gov. Pritzker's move. According to Swoik, the order was the right move to ensure that the state is able to gain some revenue in these trying financial times.