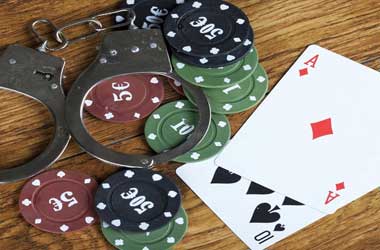 Summary
US players are spending more than $500B in bets via the black market each year
State governments are losing billions in annual tax revenue due to illegal gambling sites
AGA continues to lobby the federal government to address the issue
The illegal gambling market is flourishing in the US and the regulated gaming sector will continue to lose billions of dollars in revenue if something isn't done about it.
This was the core message of American Gaming Association (AGA) CEO Bill Miller during the recently-concluded Global Gaming Expo in Las Vegas Nevada.
Americans Wager $511B Annually on Illegal Betting Sites
Miller said legal casinos in the country are missing out on around $300 billion in wagers each year due to the operations of unlicensed operators. However, a recent study carried out by gaming research and advisory firm The Innovation Group shows that the black market is accepting approximately $511 billion in annual bets from Americans, way higher than Miller's estimates.
That figure translates to an estimated $44.2 billion in lost revenue for the country's regulated gaming industry, the research said. Illegal betting platforms and casino sites are costing state governments $13.3 billion in annual tax revenue. That number is comparatively higher than the $11.7 billion collected in 2021 by states with legal gaming markets.
Commenting on the findings of the new study, Miller said the report highlights how "pervasive" the illegal gambling market is, describing it as "a scourge on our society".
AGA Putting Pressure on Congress to Crack Down on Illegal Sites
The AGA is ramping up efforts to bring the issue to the national level, with Miller warning that illegal gambling is the greatest threat to the country's regulated gaming industry.
The trade association already called on the US Department of Justice (DOJ) to stamp out the illegal market. It remains unclear whether the federal government will immediately act on it, considering that Congress is currently split following the midterm election.
The AGA said it already sent a copy of the illegal gambling research report to each of the 535 members of Congress and it is hopeful that legislators and policy makers will tackle the issue. According to AGA Vice President of Government Relations Alex Costello, they have received some responses from US states that do not have legal gaming markets. Costello said officials from these states recognize that their constituents are at a bigger risk of turning to illegal sites as they have no legal option.
The AGA said their efforts are now focused on putting pressure on Congress to have a better chance of getting the issue picked up by the DOJ. Miller stated that combating the illegal gambling market is among AGA's top priorities over the next 12 months.