Super Bowl LIII: Why The New England Patriots Could Triumph…
Super Bowl Sunday is just 2 days away, and it's looking like a good matchup of youth vs. experience.
In this piece we're going to look at the New England Patriots and the matchups that favour the postseason stalwarts against a youthful but methodical Rams squad.
5 Reasons Why We Think Super Bowl LIII Will Go To The Patriots
Bill Belichick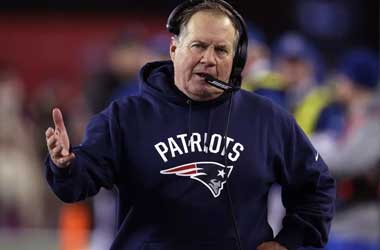 Belichick has been coaching the Patriots since the year 2000, and is coaching for his 6th ring as the leader of the Patriots. He is a savant of defense, and is well known for his ability to adapt and modify his defensive scheme to his opponent on any given Sunday.
His Modus Operandi and the reason he is so difficult to prepare against is his tendency to take away an opponents biggest offensive threats. Last week, he stifled the explosive Kansas City offense by playing his #1 corner, Stephon Gilmore, on an island almost the entire game against Sammy Watkins, the Chiefs #2 receiver, while they utilized their largest corner, J.C. Jackson, against Chiefs tight end Travis Kelce.
To neutralize possibly the most explosive player in the NFL, they bracketed Tyreek Hill with Johnathan Jones and Devin McCourty. It's hard to predict who he will take away against a Rams team that features 6 or 7 different weapons that can beat defenses, but expect him to slow down Robert Woods with Stephon Gilmore while they double Brandin Cooks to prevent getting beat deep.
Versatility
Working hand in hand with Belichick's aptitude to adapt to the situation, the Patriots defense features a lineup across the board that can fill a variety of roles and needs.
Their defensive front, primarily Trey Flowers, Deatrich Wise and Lawrence Guy can align anywhere from 0 technique (head up on the center) to Wide 9 (outside the TE) while Donta Hightower, Kyle Van Noy and Elandon Roberts can attack from anywhere, logging snaps anywhere from standup on the interior, off the ball, and stand up on the edge. They move Patrick Chung, Jason McCourty, Devin McCourty, Duron Harmon and Johnathan Jones anywhere from linebacker to wide corner to free safety, primarily based on matchups.
Offensively, they primarily roll with some combination of Rob Gronkowski, Julian Edelman, Phillip Dorsett, Chris Hogan, Cordarrelle Patterson and Dwayne Allen at the TE and WR position, but they have the flexibility to play 4 backs (Sony Michel, Rex Burkhead, James White, James Develin) in a variety of roles as well.
The GOAT
If this game plays out how we hope it will, it will be a back and forth affair coming down to the wire.
Now who is the most dangerous player at the end of games in the league?
You guessed it, Tom Brady. While he doesn't have the same arm talent he once had, Brady's anticipation, mental processing, and competitive toughness to raise his play in clutch situations makes him impossible to plan for down the stretch of a game.
How many times over the last 17 seasons have we seen the Patriots play the clock exceptionally to get Brady the ball back on the final possession of the game, where he delivers more time than not.
Last season, Super Bowl 52, was an anomaly where the Eagles pass rush essentially ended the game in that situation, and the Rams better hope they are up to the challenge if the game plays out in this way.
The Big Boys
Ah the unheralded heroes across the league rejoice when they hear the praise being given to the Pats unit comprised (from left to right) of Trent Brown, Joe Thuney, David Andrews, Shaq Mason and Marcus Cannon, as well as hammerhead fullback James Develin, who played the most snaps of any FB not named Kyle Juszczyk.
Since the start of the playoffs, arguably no single unit across the league has played better than these 5 OL in pass pro. Coached by OL wiz Dante Scarnecchia, the Pats OL has really raised their play in the postseason to keep Brady upright (0 sacks in postseason) and clean (just 2 QB hits).
Their work along with Develin in the run game is apparent as well, opening up gaping holes for workhorse Sony Michel to tally 8 rushes of 10+ yards, 5 TDs, and over 4.5 yards per carry this postseason.
Experience
While this is not an end all be all for a single game, it definitely plays a factor when you're on the biggest stage in the world. The Brady & Belichick dynasty doesn't just have an advantage in experience, they blow the Rams out of the water. The Rams have just 4 players who have appeared in the big game (RB C.J. Anderson, WR Brandin Cooks, CB Sam Shields, CB Aqib Talib), while the Patriots have just 15 players on their 53 man roster who have NOT appeared in a Super Bowl, including 4 rookies and 2 players who were either on IR or the practice squad last season.
Pro Football Weekly
Bill Belichick will be coaching in his 12th Super Bowl (9 as HC, 3 as assistant), OC Josh McDaniels has been on staff for all 5 Pats Super Bowl victories since Brady took over, and Defensive coordinator Brian Flores has been with the team for 6 appearances dating back to 2004.
They've been in this position time and time again, and the Patriots look like the safe bet yet again. Against a youthful but explosive Rams team their combination of coaching, mental preparation, experience, and versatility definitely gives them an edge even though they have been playing the underdog card all postseason. Will it be enough to overcome Sean McVay and the upstart Rams?