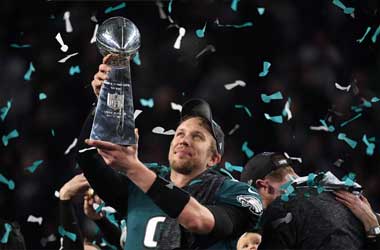 The Philadelphia Eagles narrowly defeated the New England Patriots 41-33 in a record breaking game. The game featured the most offensive yards accumulated by both teams (1,151 total yards), the most touchdowns caught by a quarterback (1 by Nick Foles) and the most passing yards by a quarterback (505 yards by Tom Brady).
But when it came down to crunch time, it was actually the Eagles defense that came up big in the fourth quarter. With the game on the line and the Eagles up by five points, the Eagles defense was able to get to Tom Brady and force a fumble deep in New England territory. The fumble was caused by number 55 Brandon Graham who had a quiet game up till that point and the ball was then recovered by rookie Derrick Barnett. The Eagles were able to get a field goal to put them up by eight points with a little over a minute left to play.
Going into Super Bowl LII, NFL analysts had stated that the Eagles defense would be a critical factor in determining who won and the Eagles stood out.
ESPN
In a statement, Eagles defenseman Brandon Graham said
Just kept going, you know? We said we needed a play. If we got one more opportunity, we were going to give everything we got — and I just so happened to get there. I'm just thankful because we've got a team that's resilient. You know, we're gonna stick around for a long time — cause we world champs, baby, and it feels so good
For the Patriots it may well be the end of a long running dynasty that has lasted 17 years since Brady took the quarterback position from then starter Drew Bledsoe. All season long there have been rumors of discontent coming from the Patriots locker room, but everything was kept under wraps. However, this loss could see those rumors surface yet again and it will be interesting to see if any changes are the Patriots make any changes for the next season.
This was the first time in over 50 years that the Philadelphia Eagles have won a Super Bowl. The last time they won the NFL championship was back in 1960 when they defeated the Green Bay Packers – which was before the Super Bowl era. The current Super Bowl champions do not have any such concerns as 20 of the 22 starters are currently under multi-year contracts with the Eagles. Nick Foles was awarded the Most Valuable Player (MVP) of the game.