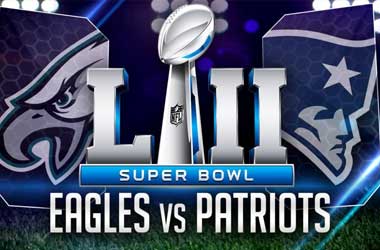 The story for Super Bowl LII reads like a Hollywood movie as the reigning champions the New England Patriots meet the title hungry and ultimate dark horse, the Philadelphia Eagles on Feb 4th at Super Bowl Sunday to play for the National Football League (NFL) championship.
We take a quick look at what NFL fans need to watch out for and what the teams must do to win on Sunday:
New England Patriots:
Tom Brady needs to stay upright and stay on the field.

If any of the Patriots previous championship wins tells us anything is that the team's offense lives and dies in the hands of 40 year-old quarterback Tom Brady. Brady is known to pick defenses apart and the Patriots will be counting on their star player to deliver come Super Bowl Sunday.

Take away the Eagles running attack.

While Nick Foles has put up impressive numbers in the three playoff games he has appeared in and completely destroy the vaunted Minnesota Vikings defense during the NFC Championship game, the Eagles have really been a hard-nosed, ground and pound running team through most of the season.

The Eagles ranked third in running offense (132.2 yards / game) in the NFL this year and ranked first in runs of 10 yards or more. The Patriots must come in with a strong strategy to counter the Eagles.
Philadelphia Eagles
Defensive line needs to neutralize Tom Brady.

While it easier said than done, the Eagles defense needs to find a way to keep Brady out of the pocket and keep him constantly moving. This is strategy that most teams have adopted in the past to counter the Tom Brady factory and the Broncos did that very well in 2015 when they defeated the Eagles.

Doug Pederson needs to make the correct halftime adjustments.
Head Coach Doug Pederson has earned the reputation over the course of the season as being an expert of the halftime adjustment. For the Super Bowl, the half time allowed will be extended from 12 minutes to 30 minutes and this will be beneficial for Pederson and the Eagles.
USA TODAY Sports
Prediction
Nick Foles will be a deciding factor, especially if he can find the magic he had against the Vikings in the NFC title game. The Eagles defense will also have to hold off Tom Brady especially towards the end, if they are to win. Should the Eagles start slowly, Brady could steal the show and help the Patriots win another Super Bowl on Sunday.