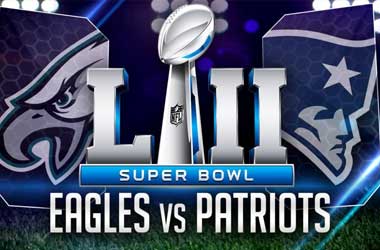 We are less than 10 days away from biggest American Football Event which is Super Bowl Sunday when the Philadelphia Eagles will take on the New England Patriots for the Lombardi Trophy. Super Bowl LII will take place on Feb 4 at the U.S. Bank Stadium in Minneapolis, Minnesota and millions of NFL fans from around the world will tune in.
The Patriots are the defending champions and will have the added pressure of defending their championship and winning back-to-back trophies. They are the favourites with the fans going into Super Bowl Sunday. The Eagles who are the underdogs are currently betting favourites as betting sites like OddSharks.com have them slighting ahead with 5.5+ over the Eagles.
The Eagles and Patriots clashed in Super Bowl XXXIX and the Eagles managed to win the championship by three points. Philadelphia fans will want the Eagles to avenge that loss but it is going to be a challenge for the Eagles as they will have to contend with the likes of Tom Brady and coach Bill Belichick.
NFL Total
During last year's Super Bowl, the Patriots took on the Atlanta Falcons and were in trouble early on. However, the Patriots pulled off a remarkable comeback to defeat the Falcons and win the Super Bowl. They will take confidence from that win and know that if they can play as a team and fight it out till the end, they have a great chance of winning back-to-back championships.
The Patriots have played well for a number of seasons but have never been dominant in Super Bowls. Belichick has coached the Patriots for 18 seasons and during that time the Patriots have made it to the Super Bowl on 8 occasions. They have won five of those Super Bowl finals with narrow victory margins with the highest being 6 and the lowest being 3. They have lost two Super Bowl finals and on Feb 4, the Patriots will have the opportunity to make it 6 wins under Belichick's guidance.
The Eagles have had to battle hard all season as they lost Carson Wentz in Week 14. Nick Foles has played well for the Eagles and has spurred them on all season. The Eagles were underdogs when they took on the Falcons and the Vikings but showed in both games that they had the ability to pull off surprise victories. The Eagles will want to come together once more as a team and show that they have what it takes to win on Super Bowl Sunday and deny the Patriots back-to-back championships.