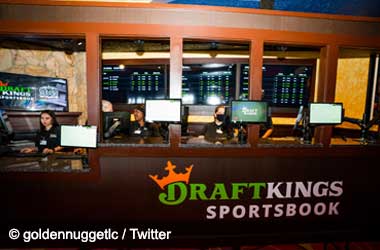 Summary
The new sportsbook will be the largest one in Louisiana with 12,000 square feet of space.
DraftKings sportsbook will offer blackjack and video poker
30 self-service sports betting kiosks will be located on-site.
Sports fans will be excited to hear that DraftKings is preparing to launch its permanent sportsbook in Louisiana at the Golden Nugget Lake Charles.
The brand launched a temporary space in November (pictured) while the permanent structure was being set up. The new location will open on September 1 and offer the largest sportsbook in Louisiana.
Opening in Early September
The permanent structure will open on September 1 with a huge area for sports betting. The sportsbook will be quite large, offering over 12,000 square feet of space. Players can watch all the sports action with more than 3,200 square feet of LED TV screens. Live games will run constantly, and players can relax in one of 300 lounge seats within the venue.
The sportsbook will also include a VIP room where players can enjoy more comfortable viewing of sports games. As far as betting is concerned, the sportsbook offers five ticket windows with support on hand for wagering needs. Players can also set their own sports bets via 30 self-service kiosks. The kiosks offer instructions so players can post their own wagers without having to wait in line for support.
For additional gaming, the sportsbook will be home to video poker and blackjack. Only three blackjack tables will be on-site, but the property will include 16 video poker machines.
Will DraftKings Expand to other Golden Nugget Properties?
DraftKings is a well-known brand that offers sports betting across the United States with several partner brands. The company offers services both online and retail options for bettors with a variety of spaces located across the country.
Golden Nugget is a company owned by Tilman Fertitta and DraftKings just recently purchased Fertitta's Golden Nugget Online Gaming brand. It is now being considered how the sportsbook will use the brand and if DraftKings sportsbooks will move into the other Golden Nugget properties owned by Fertitta.
Along with the property in Lake Charles, the Golden Nugget is also located in Mississippi, with two venues in Nevada. The operator is also looking to offer services in Colorado and Illinois. There is plenty of opportunity for the brand to grow and it will be interesting to see if DraftKings is included.
In Louisiana, the new sportsbook will also offer a Bar & Grill for patron dining. Visitors can access breakfast, lunch, and dinner with a quality menu, along with grab and go items. This is yet another way as to how the Golden Nugget venue will stand out among its competitors in Louisiana's sports betting market.