10 Best Songs To Gamble Along To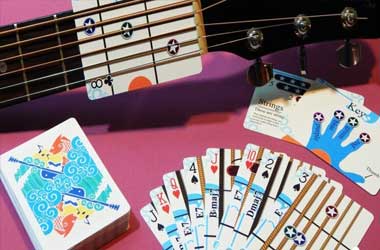 Ever wondered what the best gambling songs are? Well there are quite a few, and it seems poker is the most attractive game for writing a song about it, and it dominates the themes among all gambling-related songs.
Very few artists even bother to mention roulette or blackjack, and there are no songs about slots although one was inspired by them, and #2 on our list mentions dice, which means it's about craps.
Let's have a look at our selection of top 10 gambling songs.
Popular Gambling Songs To listen Whist Gambling
#10 Sanctuary (1980)
Iron Maiden
There is very little reference to gambling in this Iron Maiden single from their early days in 1980 – it is in fact their only second single – but it's a powerful song that is about a fugitive from the law who meets a guy who spends his money on gambling and guns to survive.
The lyrics really strike a chord, and you immediately can imagine a guy who's running from the law, is looking for a sanctuary from the law, and meets up with a stranger and gets in touch with the gambling underworld. This is a very dark song about a downward spiral. Iron Maiden did release a song titled The Angel and the Gambler in 1998, but that one's just too obvious. The effect of one mention of gambling in Sanctuary is much stronger.
#9 Pokerface (2006)
Ghostface Killah feat. Shawn Wiggs
The only hip hop track on the list, Pokerface features lines from the hit movie Rounders from 1998. Any poker player will be able to relate to this song, and many probably use it to get themselves ready for a big tournament as this is one of those songs you'd want to have as your entrance song.
The song throws a lot of cliches your way but also offers good advice such as you having to trust your gut, and not being able to lose what you don't push into the pot.
#8 The Jack (1975)
AC/DC
The Jack is a blues rocker that's filled with references to the game of poker. Of course, as you'd expect from AC/DC, the song is actually about sex, and about a pursuit of a woman that "had been shuffled before" but "never had the royal flush".
Apparently, the woman was dealing the cards from the bottom of the pack, and if the singer knew it, he would have dealt them all back. Because she's got the jack, which is Australian slang for "gonorrhea", and the song is actually about Bon Scott – the singer of AC/DC until his death in 1980, after which Brian Johnson took over – catching that STD from a woman that lied about being a virgin.
#7 Shape of My Heart (1993)
Sting
Perhaps few people who gamble actually like Sting, or this 90s lemonade in particular, but the female audience might enjoy this philosophical song that has as much to do with gambling as it does with the gamble of life.
The lyrics are actually brilliant once you take the time to actually look past the well-known refrain and the verse riff, as Sting describes a man who deals the cards not to win but to find the answer, the sacred geometry of chance, the hidden law of a probable outcome. Surreal. But from Sting you'd expect nothing less.
#6 Deuces are Wild (1994)
Aerosmith
I love you 'cause your deuces are wild, sings Steve Tyler about a girl whose deuces, the lowest-ranked card possible, are wild and therefore better than any other card. Even her worst is better and more special than someone's best. This is a reference to Deuces Wild Poker, in which landing a two is the same as landing a joker, so a two can be anything you want it to be.
There's another poker reference when Tyler sings "you and me is two of a kind". As far as music quality is concerned, this is likely the best song on this list. Not that much to do with gambling though, even if the game of poker is used for the clever word play that makes this song work.
#5 Ace of Spades (1980)
Motorhead
One of the most successful songs by English band Motorhead, Ace of Spades is an adrenaline rush that throws a lot of poker terminology in your face. While the lyrics may seem too obvious and the music too simple, this is just awesome speed metal that needs no explanation. It is considered the definitive Motorhead anthem – though not by Lemmy Kilmister who liked other songs better, probably because he got sick of this one.
He was inspired by slot machines he'd play in London pubs, so this is one man's rant against all those losing spins, and Lemmy chose to write about poker instead of fruit symbols. Understandable. This song frequently ranks among the best 10-20 hard rock songs or heavy metal songs of all time, and is the top song on this list that was actually written by the artist who performed it. Lemmy wrote it toghether with his guitar player and his drummer.
#4 Poker Face (2009)
Lady Gaga
Poker Face is Lady Gaga's song from 2009 and the best selling single of that year with over 6.5 million copies sold. This is a song about romance, but uses poker terminology for dramatic effect, and compares poker to the game of love, where you have to bluff and keep a straight face. Nothing is more true, and it makes perfect sense.
This is also probably the best overall song on this list, at least in modern times. It's a perfect song with clever lyrics and a catchy chorus, by one of the most popular artists, and an artist in the true sense of the word. The song was written by Stefani Germanotta and Nadir Khayat.
#3 Viva Las Vegas (1963)
Elvis Presley
How can it get any better than Elvis himself singing a song about Las Vegas? This song was recorded in 1963 to be used in the Viva Las Vegas movie that came out in 1964, and this song plays a large part in making Las Vegas what it later became and what it is today.
There's nothing philosophical about this song, it merely depicts the fun you can have in Las Vegas playing blackjack, poker and roulette, win a fortune and lose it on every deal, and how you wish there were more than 24 hours in a day. Back then it was just a pop song, and a hidden advertisement, but today it's an evergreen that puts Las Vegas and Elvis in the same song, which is something larger than life. And just as cheesy and artificial as Vegas, at the same time. The song was written by Doc Pomus and Mort Shuman.
#2 Luck Be a Lady (1965)
Frank Sinatra
If Viva Las Vegas is cheesy, then Luck Be a Lady is legit. If there's one person or artist that personifies the old casino world, it's Frank Sinatra. He was gambling in Vegas regularly long before it became a thing, or to be more specific, he would usually go to Cal Neva Lodge, and would later own it together with his mobster friends. This song – obviously about craps – would likely be number one on this list if more people enjoyed this style and sound.
So for the number one on the list we'll choose a song with a modern structure and a much more catchy tune. Even if there are few lyrics that are more clever than this one, as a true lady never leaves her escort and doesn't blow on some other guy's dice. Be a lady and stick with me all night, will you, luck? Brilliant lyrics by Frank Loesser.
#1 The Gambler (1978)
Kenny Rogers
There is still no better gambling song than The Gambler, and there likely never will be. The legendary country singer Kenny Rogers is the perfect artist to sing about gambling, and this song now has an added appeal of being an evergreen title that describes some bygone era when things were different. Better, perhaps. The Gambler is about poker, and the reason why this song is so great is that it links the game of poker to life, and wise words of the gambler still echo in everyone's head, you got to know when to fold'em and when to hold'em, which is true for both poker cards and the game of life.
After all, you're judged by the company you keep. The gambler from the song doesn't really explain when should you hold'em and when should you fold'em, so his advice is only philosophical and not practical, but it brings an important point about decisions in life. Every hand is a winner and every hand is a loser, and it's you who dictates your own fate by choosing what to keep and what to let go, and when to just run.
Don Schlitz wrote the song and performed it first, later Johnny Cash had a go, but the song really became a hit when Kenny covered it. Ironically, neither Don Schlitz nor Kenny Rogers are gamblers. "I can't win enough money to excite me, but I can lose enough to depress me, so I don't gamble", Rogers said. Now that's some advice, too.