Must Read Books To Improve Poker Strategy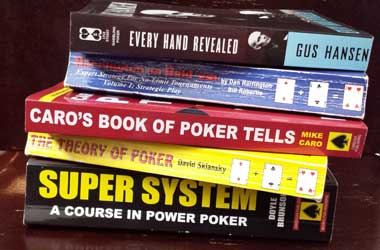 One reason why poker is considered a game of skill is because poker strategy is critical to the final outcome.
A player who learns and develops a good poker strategy is more likely to be consistent at winning in the long run.
5 Poker Books Worth Reading
If you're keen on improving your skills and strategy, the following books are worth considering.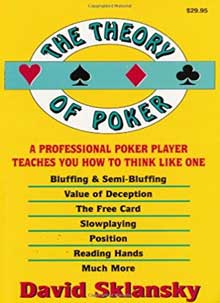 The Theory of Poker
by David Sklansky
Widely regarded as poker's strategic dictionary, this book by David Sklansky is popular among serious poker players. Sklansky had put in enormous hard work and effort in writing the book which resulted in a 276-page, well-researched and highly strategic masterwork, released under the leading poker strategy publisher Two Plus Two.
Any player who is seriously considering a career in poker should grab a copy of this book as it contains all the basic fundamentals of strategy. This book raised the bar for all future strategy discussion, making it a critical part of every serious player's bookshelf.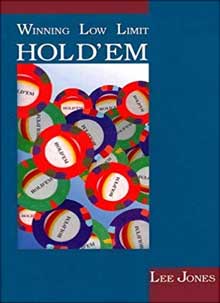 Winning Low Limit Hold'em
by Lee Jones
This book by former PokerStars Site Manager Lee Jones has remained one of the world's most famous poker strategy books.
It has been used by poker players as a major reference in playing low-limit Texas Hold'em and is remarkable for its simplicity and conversational tone.
Jones' vast understanding of the mind of the average poker player is reflected in the book's easily comprehensible strategic advice, making it one of the most important strategic books out there.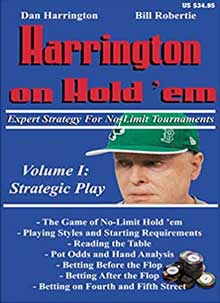 Harrington on Hold'em
by Dan Harrington
Published at the peak of the poker boom, this book was written by the 1995 World Series of Poker champion Dan Harrington.
It is widely considered as the best-selling poker book in history, having sold more than 300,000 copies worldwide.
Harrington had collaborated with game theorist and master chess player Bill Robertie in writing this book which was released as a multi-volume collection.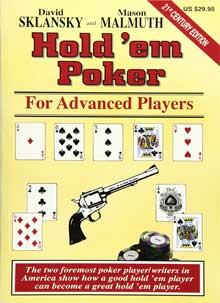 Hold'em Poker for Advanced Players
by Mason Malmuth
Malmuth is one of the most popular and well-distinguished poker authors. He has written and published a number of books through his own publishing company Two Plus Two.
This book in particular played an important role in re-defining Hold'em from the 1990s up until 2003. It was first released in 1988 and has since been re-printed a number of times.
'Hold'em Poker for Advanced Players' helped many poker players during the poker boom and introduced new poker concepts such as the popular "semi-bluff".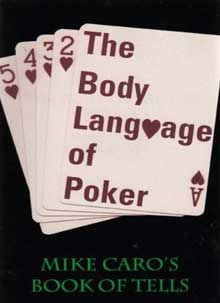 The Body Language of Poker
by Mike Caro
Also known as "The Book of Tells", this book teaches players how to analyse and understand an opponent's body language, which is an integral element in the game of poker.
The book was first released in 1984 and was later updated after 10 years.
The 1994 edition now contains 277 pages photos with explanations, as well as in-depth analysis.