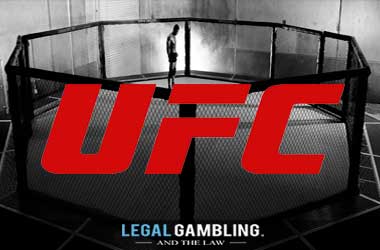 The UFC is heading back to Abu Dhabi to host UFC 294 which is set to take place on Oct 21 at the Etihad Arena. When the UFC announced this card, fight fans were informed that it was going to be headlined by a rematch between UFC lightweight champ Islam Makhachev who was supposed to fight the former champ Charles Oliveira.
The co-main event saw the return of the exciting Khamzat Chimaev who was moving up from welterweight to middleweight to fight Paulo Costa. There was always an element of doubt as to whether the Main Event and co-Main Event would take place because all four fighters have had issues with cutting weight in the past.
Those concerns materialized 11 days before the fight because Charles Oliveira ended up suffering a nasty eye gash on his last day of training camp that effectively ruled him out of his championship fight. The UFC had to find a quick replacement that would be willing to fight the champ Makhachev on short notice and UFC featherweight champ Alexander Volkanovski accepted the fight on 11 days' notice!
Paulo Costa posted a video stating that he had an operation on his elbow less than 4 weeks before his fight with Borz was supposed to take place. The UFC then clarified that Costa was not going to make the fight and wanted to get a good replacement for the co-Main event. They called former UFC welterweight champ Kamaru Usman who decided to step up to middleweight and take the fight on 9 days' notice.
When the Main event and co-Main event falls through on a pay per view card, it usually results in problems because the quality of the card comes under the scanner. However the opposite might have happened for UFC 294 as MMA bettors are happy with the new Main event and co-Main event as it promises to be a lot more exciting than the original fights!
Best Sports Betting Sites for UFC 294
Punters who are looking to test their MMA betting predictions or bet on their favourite UFC fighters, should register at any one of our recommended betting sites. Sign-up now, claim your welcome bonus and bet on UFC 294 today!
UFC 293 – what happened?
UFC 293 saw Israel Adesanya look to defend his middleweight belt against Sean Strickland. Adesanya was initially looking to fight South African Dricus du Plessis as the two of them had bad blood between them but du Plessis wasn't willing to fight in October.
Since Adesanya was determined to fight in Sydney, Australia the UFC decided to give Sean Strickland a shot at the title. Adesanya went into the fight as a heavy betting favourite including with LegitGambling as he was the more technical striker and in the lead-up to the fight was confident of putting a beating on Strickland and finishing him.
Adesanya did not look his usual confident self during media week as Strickland started playing mind games with the champ in the media. Strickland who is known to be a brash talker who does not have a filter, appeared to have brought up some sensitive issues that played with Adesanya's mind and it showed in the fight.
Adesanya looked a shadow of himself in the fight and had no answer to counter Strickland's awkward fighting style. The fight ended up going the distance and Strickland ended up winning by decision. After the fight, Strickland said he was disappointed to see how Adesanya fought as he expected a tougher fight from the champ.
Since his loss to Strickland, Adesanya has decided not to call for a rematch and take an extended break from fighting to look after his mental and physical health.
* Odds have been provided by BetOnline and are accurate of Oct 16, 2023
Main Event Breakdown: UFC Lightweight Championship
UFC President Dana White gave full credit to champ Islam Makhachev for being willing to take a rematch with Alexander Volkanovski instead of cancelling the fight after Oliveira cancelled. Makhachev said that a champion should be willing to fight anyone at any time and not make excuses!
Makhachev flew into enemy territory in Perth, Australia to defend his belt against Volkanovski at UFC 284. Volkanovski had a full training camp for this fight and ended up giving Makhachev his most difficult fight in the UFC and nearly pulled off a win as Makhachev started getting tired in the final rounds whereas Volkanovski started getting better.
The judges' scorecards read 48-47, 48-47, 49-46 and Makhachev walked away with a unanimous decision win. MMA fans wanted to see an immediate rematch but Dana White wanted both fighters to defend their belts against other contenders in their respective divisions before setting up a rematch.
MMA fans have gotten their wish sooner rather than later due to a set of unexpected events. The big difference here though is that Volkanovski does not have a full training camp and is also recovering from hand surgery that he had a few months ago. Volkanovski's next fight was supposed to be in Jan 2024 in Canada but he was willing to take a short notice fight to get the rematch with Makhachev!
Islam Makhachev (c) (24 – 1 – 0)
Odds to win: -250 (1.40)
Makhachev did not have his best performance against Volk back at UFC 284 and will be happy to get a chance to beat Volk for the second time and silence his critics. Makhachev is the betting favourite in this fight and rightly so!
The champ already has a unanimous decision win over Volk and this time around he is facing the Australian who has not had a full training camp. You must also factor in the jet lag and time zone changes that Volk will have to adjust to before his title fight. Most fighters in a championship bout tend to come to Abu Dhabi three or four weeks earlier in order to recover from the jet lag and get accustomed to the different time zone. These weaknesses should work in Makhachev's favour.
Makhachev is one of the best wrestlers in the UFC and will look to keep this fight on the ground as his striking skills come up just a little short against Volk. The big question for Makhachev is whether he will be able to keep his cardio and pace going for all 5 rounds!
Alexander Volkanovski (26 – 2 – 0)
Odds to win: +210 (3.10)
Volkanovski was livid with himself when he lost at UFC 284 and felt he could have done a little more to turn the tide in his favour. He gets another chance at UFC 294 but it is going to be an uphill battle for the featherweight champ as he is fighting underprepared.
Volk's skills and heart cannot be questioned as hardcore MMA fans know that he is one of the greatest MMA fighters in the UFC. However, we don't know if he has fully recovered from his hand surgery and how the long flight from Sydney to Abu Dhabi will impact his performance in the Octagon!
The big question is whether Volk was able to learn from his mistakes in this first fight against Makhachev and will he be able to make those adjustments in the second fight to become a two division champ in enemy territory!
Prediction: We expect Makhachev to win once again by decision after grinding out another 5 hard rounds!
Co-Main Event: Middleweight Bout
When Kamaru Usman was welterweight champ and Khamzat Chimaev was in the welterweight division, it seemed like the two of them were on an inevitable course to eventually fight each other. Usman ended up losing his title in a shock defeat to Leon Edwards and would later go on to lose the rematch at UFC 286 earlier this year.
Khamzat ended up missing weight badly in his last fight and as a result is now moving up to middleweight. With Paulo Costa out, the UFC offered Usman the fight in the middleweight division and he took it on short notice as he does not have to cut down to welterweight.
This is an exciting fight for both Usman and Khamzat as the winner is unofficially guaranteed a title shot against UFC middleweight champ Sean Strickland next! Usman is coming off back to back losses and will have to deal with the jetlag and the fact that he has had no training camp. What will work in his favour though is that Usman is used to fighting 5 rounds but for the first time in a long time, he will be in a 3 round fight and his cardio should hold up!
Kamaru Usman (20 – 3 – 0)
Odds to win: +230 (3.30)
Kamaru Usman has shown us in his championship reign at welterweight that he has a fantastic ground game but is also very adept at striking with the best in the world.
Will moving up a weight class impact his power and put him at a disadvantage or will he be able to adjust? We don't know, we will have to wait and see.
Khamzat Chimaev (12 – 0 – 0)
Odds to win: -270 (1.37)
Khamzat Chimaev showed in his fight against Gilbert Burns that he is no quitter when things get tough and will not back down. He is going to be tested against Usman both on the feet and on the ground.
We think Chimaev will have the edge over Usman simply because he has gone through a full training camp in Abu Dhabi and is better prepared.
Prediction: We expect Khamzat Chimaev to test the chin of Kamaru Usman and predict that he will win by TKO!