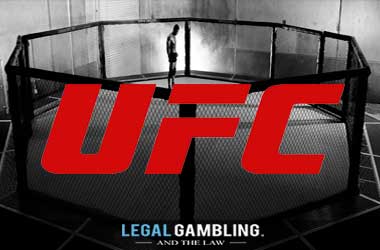 The UFC is set to host its second pay per view card in March 2023. UFC 285 took place in early March at the T-Mobile Arena in Paradise, Nevada. The UFC will now make its way to the O₂ Arena in London, England on March 18 which will excite UK MMA Fans.
The card will be headlined by a trilogy fight between current British champ Leon Edwards who will take on former champ Kamaru Usman. Edwards will have the home advantage and the support of thousands of boisterous English fans as he looks to defend his title for the first time.
The UFC usually tends to have two title fights on a pay per view card but UFC 286 will have just one! Former lightweight title challenger Justin 'The Highlight' Gaethje will take on the hard hitting Rafael Fiziev in the co-Main event.
The UFC has packed this card with some of the best British fighters in the organization and will have another sell-out at the O2 arena. Some of the other fights on this card that you need to watch out for include Joanne Wood vs. Luana Carolina, Jai Herbert vs. L'udovit Klein, Muhammad Mokaev vs. Jafael Filho and Jack Shore vs. Makwan Amirkhani.
Best Sports Betting Sites for UFC 286
If you are looking for a good sportsbook to bet on UFC 286 as well as upcoming UFC events, then check out our featured list of sportsbooks as they cover all of the UFC pay per view and Fight Night cards along with other global sporting events taking place around the world.
UFC 285 – what happened?
UFC 285 took place at the T-Mobile Arena in Paradise, Nevada and it turned out to be a massive pay per view card for the promotion. Jon Jones made his return to the Octagon after a three year lay-off and fought for the first time at heavyweight as he took on the number one contender Ciryl Gane.
The UFC heavyweight championship was on the line after champ Francis Ngannou relinquished his belt as he and the UFC could not come to terms on a potential new contract. Many expected Jon Jones to be rusty after a three year lay-off and thought Gane would give him a tough test at heavyweight.
However, Jones made quick work of Gane and submitted him via a guillotine choke in under 3 minutes of the first round, to become the new heavyweight champion of the world! In doing so, Jones also further established himself as the Greatest of All Time (GOAT).
The co-Main event saw strawweight champ Valentina Shevchenko look to defend her belt for the 8th time against Alexa Grasso who was known for her boxing. Shevchenko was a massive betting favorite (including with us) and looked good until she made a mistake with a spinning back-kick.
Grasso ended up taking her back and within a minute ended up submitting her to stun the MMA world and become the new strawweight champion. Grasso said after the fight that they had specifically trained for that mistake and could not believe that she was now the champ.
Shevchenko has called for an immediate rematch and Grasso said that she was happy to give her the rematch!
* Odds have been provided by 888sport and are accurate of March 13, 2023
Main Event Breakdown: UFC Welterweight Championship
Kamaru Usman and Leon Edwards fought for the first time in December 2015 and Usman ended up dominating that fight and winning by unanimous decision. Kamaru Usman was a dominant champ at welterweight with 5 successful title defenses before he took on Leon Edwards for the second time in August 2022.
Usman entered his second fight against Edwards with an 18-0 undefeated streak while Edwards came in with a 9-0 streak and 1 no-contest and said he was confident that he would be able to beat the champ in their second fight.
The second fight went pretty much as the first fight as Usman was in command for most of the fight. Edwards has great take down defense and was able to stop Usman from getting his back and dominating him. However, he could not do much offensively to Usman and it looked like Usman was going to win by another unanimous decision.
However, Usman got complacent in the final minutes of the 5th round and Edwards surprised him with a perfect head kick that put him to sleep. Edwards win was one of the biggest upsets in 2022! Usman called for an immediate rematch and Edwards was willing to grant him one, provided he came to the UK and fought him on home soil!
Even though Usman is fighting in hostile territory, he will go in as the betting favorite while the champ remains the betting underdog yet again!
Leon Edwards (20 – 3 – 0)
Odds to win: 39/20 (2.95)
Leon Edwards is known for three things. His boxing, his great takedown defense and strong cardio. He is going to need all three of these when he takes on Usman for the trilogy as the former champ will test all three.
What we need to see if Edwards has a gameplay to not just stop the takedowns but to see if he can launch an offensive attack on Usman and take the fight to him. That's what he did in the final minutes of the 2nd fight and that's how he won! If Edwards cannot be offensive, it could be a long night for him defending takedowns and being held in the clinch!
Kamaru Usman (20 – 2 – 0)
Odds to win: 2/5 (1.40)
Usman knows he should have won the second fight against Edwards but for a lapse in concentration. What MMA fans want to know is how is that KO going to impact the former champ's mindset.
Is he going to be more careful in coming forward and trying to walk down Edwards or will he adopt a more cautious approach and play it safe! It will certainly be hard for Usman to come back and be as dominant as he was before, because it is hard to block out a KO like that and pretend it never happened.
Usman hasn't been very active on social media since his loss and we don't know what his mentality is like coming into this fight!
Prediction: We think Edwards might end up causing a second upset and beat Usman again as he will have an edge going into this fight and the massive support of UK sports fans!
Co-Main Event: Lightweight Bout
Justin Gaethje hasn't been as active as he was in the past, with just two fights in the last two years. Gaethje's last fight was for the lightweight championship and he ended up losing by submission to Charles Oliveira in round 1.
Gaethje will now face top Azerbaijani MMA fighter Rafael Fiziev in the co-Main Event and MMA fans know that they are in for a war as Gaethje's fights generally end with either a Performance of the Night bonus or a Fight of the Night bonus.
Justin Gaethje (23 – 4 – 0)
Odds to win: 39/20 (2.95)
Justin Gaethje's style is to stand and bang in the center of the Octagon. Gaethje knows only one way and that is to talk his opponent down, throw caution to the wind and land that KO punch. He has nasty leg kicks and the ability to knock anyone out with one punch!
Gaethje's style has been criticized in the past as he takes a lot of damage. However, don't expect Gaethje to do anything different when he faces Fiziev as he fights to entertain the fans and he isn't going to change that with a packed O2 arena.
Rafael Fiziev (12 – 1 – 0)
Odds to win: -2/5 (1.40)
Rafael Fiziev knows that if he can beat Gaethje and do so impressively, he will most likely be one fight away from a title shot! Fiziev is another fighter who likes to stand and bang but he also has the ability to take the fight to the ground and test Gaethje's cardio.
Prediction: We expect the fight to play out on the feet mostly as both fighters are entertainers. It will come down to who has a better chin and whose cardio is going to hold up on the night. While Fiziev is the betting favorite, we think Gaethje will pull this one off by TKO!
Go to the official UFC website, to see the full card for UFC 286.