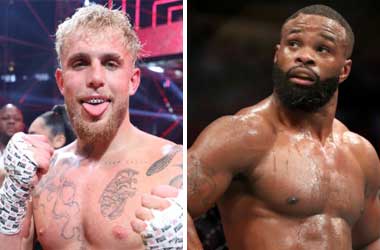 The celebrity boxing era is set to continue this weekend as Jake Paul prepares to take on Tyron Woodley on Sunday, August 29 at the Rocket Mortgage FieldHouse in Cleveland, Ohio.
We've all been living through what feels like a lucid dream in combat sports over the course of the last few years but through all of the noise and chaos, there's been a degree of clarity that has emerged: people want to pay to see some crazy stuff go down in the ring. Jake Paul is set to compete in his fourth professional boxing bout in his own backyard whereas Tyron Woodley will be making his pro debut after leaving the Ultimate Fighting Championship.
It seems a bit out there and somewhat insane to think this is going to happen, but the masses are ready to tune in with a full crowd expected to be in attendance.
Best Betting Sites To Bet On Cruiserweight Exhibition Bout
The journey to fight night
Just a matter of months ago behind the weight of the blossoming Triller brand, Jake Paul went toe to toe with former UFC fighter Ben Askren. On that night, with many doubting him, "The Problem Child" sent a clear and direct message to his haters by knocking Askren out to take his pro record to 3-0. Woodley, who is a close friend and training partner of Askren's, was in his corner that night and actually got into a confrontation with Paul before the fight even went down.
Woodley was present whilst Jake was getting his hands wrapped and in that time, the two exchanged verbal blows that eventually led to this grudge match being booked.
Showtime has picked up the rights for this broadcast with the likes of Ariel Helwani and Logan Paul being lined up to call the action, in what should make for one of the most memorable evenings of boxing in recent memory – for better or worse.
Sport fans in the UK can watch it all go down for a price of £16.95 on BT Sport Box Office.
Things to Watch For
The main headlines outside of the Jake Paul fight stem from Daniel Dubois and Tommy Fury, two rising stars in their own right, who will both compete on the undercard. Fury has also been linked with a fight against Paul in the future which could manifest if the pair are able to win their respective contests on Sunday.
SHOWTIME Sports
* Odds have been provided by BetOnline and are accurate as of 23/08/2021
Jake Paul (3-0)
Current Odds: -190
For a long time now Jake Paul has been seen as little more than a joke within the wider boxing and sports community, but beneath the surface, there's a man who genuinely believes in his mission objective – which is to be one of the best boxers of his generation. He's young enough to make the idea come to fruition in theory but in reality, it makes sense for him to stay within the range of the current "superfights" that he's engaging in with stars from multiple sports.
Paul has taken a particular interest in the MMA sphere with his end goal being to challenge Conor McGregor to a boxing match. Again, twelve months ago it would've been ridiculous to even suggest such a thing, but the trajectory of both men means it could become a feasible possibility.
Tyron Woodley (0-0)
Current Odds: +160
For Tyron Woodley, this fight is all about trying to prove the doubters wrong after a steep fall from grace in the last two and a half years. In March 2019 he was beaten and humbled by Kamaru Usman, losing his UFC welterweight crown in the process. After more than a year away from the sport he returned for three fights in 10 months against Gilbert Burns, Colby Covington and Vicente Luque.
He was convincingly beaten in all three and while he did manage to rock Luque before getting submitted, it was still a bad night at the office for a man who many still believe to be a top-three welterweight of all time.
Prediction
The fact of the matter is that nobody can accurately know what Tyron Woodley is going to bring to the table from the standpoint of his boxing ability, because a lot of that information has been kept quite close to the chest. He's known to have a lethal right hand that he can use to great effect when he so desires, but finding the right moment to land such a shot is easier said than done in boxing. We don't doubt that he has a "puncher's chance", especially given the high level of training he's been taking part in, but years have gone by since he last looked like the Woodley we all remember.
Jake Paul, on the other hand, may have pressure on his shoulders in the eyes of some – but we legitimately believe he has nothing to lose here. This is a venture that has already gone above and beyond the expectations that many put in front of him and he seems to be more focused than ever before about the prospect of landing a big knockout blow.
The smoke and mirrors effect could be at risk of coming into play here but we do genuinely believe this is Jake Paul's fight to lose. We're backing him to win the fight via stoppage in the third round after a back and forth war of attrition that does see Paul get put into some bad spots by Woodley.
After that, it's anyone's guess as to what Jake will decide to do next, but we wouldn't put it past him to continue down the mixed martial arts route by calling out someone like Nate Diaz.